What is a CT scan?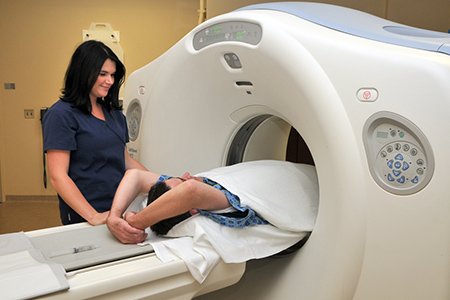 A CT scan uses X-rays and special computers to create detailed images of sections of the body. We use CT scans to locate and diagnose conditions like:
Blocked blood vessels
Infections
Tumors (noncancerous and cancerous)
CT tests we offer
We use CT scans to diagnose a number of conditions. The CT scans we offer include:
Our CT division is accredited by the American College of Radiology. All of our imaging technologists are CT-certified by the American Registry of Radiologic Technologists.
What can I expect during my CT scan?
We'll give you information to help you prepare for your exam. Some tests may require blood work at a separate appointment before your exam. Please bring a list of your current medications to your test appointment, along with any other materials your doctor requests. Most scans are done on an outpatient basis, and if you are pregnant, it's important to tell your doctor prior to the test.
During the test, you'll lie on a table, which will slide into the scanner. If your test requires an injection of contrast material, you may feel warm or flushed during the injection. You will have to lie still during the test, and your technologist may ask you to hold your breath at certain points during the exam. This is so we can get the clearest picture possible to accurately diagnose your condition.