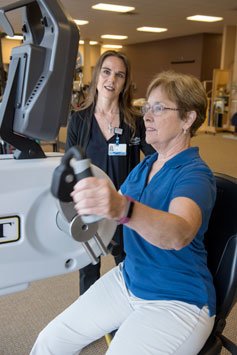 Cancer rehabilitation services helps you regain independence in activities of daily living affected by your cancer experience. Our therapists will work with you to minimize pain, fatigue and disability during and after your cancer treatment. They will guide you to resume normal activities for the best quality of life possible.
The rehabilitation care team provides expertise, guidance, training, and support throughout your treatment. Based on your needs, your rehabilitation team can consist of:
Doctors
Nurses
Physical therapists
Occupational therapists
Speech-language pathologists
Registered dietitians
Ask a Cancer Support Specialist
Physical and Occupational Therapy
Studies show that exercise can decrease fatigue, improve quality of life and increase the chances of surviving cancer. Henry Ford's physical therapists specializing in cancer rehabilitation can design individualized exercise and treatment programs to reduce or prevent many cancer-related problems, and will help you to heal faster than you would on your own.
Your physical therapist may work with you to improve:
Comfort and well-being using manual (hands-on) therapy or other technologies
Aerobic capacity by determining the best aerobic activities for you
Bone density by teaching you safe and effective exercises to help steadily build your bone strength
Lymphedema and swelling with treatment from a certified lymphedema specialist
Surgical incisions by checking for infection, educating on dressing changes and techniques to minimize scarring, and through very gentle massage or other technologies to keep the skin as soft and pliable as possible
Body weight, mood and/or brain fog (or "chemo brain") by creating an exercise and physical activity program tailored just for you
Walking and balance using techniques such as strengthening exercises, walking training, and balance activities; in some cases bracing or an assistive device, such as a walker or cane, can improve safety
Motion through use of specific activities and treatments to help restore normal movement in any stiff joints
Flexibility, strength and coordination using targeted exercises
Cancer and its treatments can cause difficulties that interrupt daily routines, and affect how you perform self-care, work, leisure, or social activities.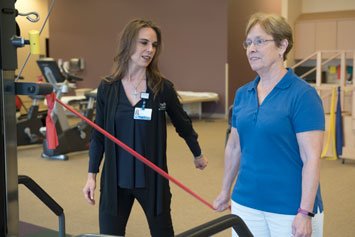 Henry Ford cancer occupational therapy specialists address these issues through intervention aimed at restoring function, such as:
Developing home exercise programs to improve strength and mobility
Modifying daily routines; for example, teaching different ways to conserve energy during important everyday activities
Modifying environments such as the workplace, home, or community to minimize difficulties
Your cancer occupational therapy specialist will work with you to achieve your maximum level of independence and quality of life. Some examples can include:
Management of activities of daily living (ADLs) such as bathing and dressing through adaptations to the activity and environment, and/or the use of assistive technology.
Lifestyle management such as preventative health, improved fitness, etc. This may include education emphasizing the person's strengths and positive coping strategies that enable him or her to be in control of lifestyle choices.
Sleep and fatigue management such as education in and demonstration of energy conservation and relaxation management techniques to support health and the ability to participate in meaningful activities.
Cognitive strategies to address memory, organizational executive function deficits, and low-energy tasks that focus on restoring engagement in daily occupations such as sitting in the park, reading a newspaper, or conversing with a friend.
Therapeutic exercise and positioning to maintain functional range of motion, mobility, and strength such as home exercise programs, splinting, wheelchair fitting, bed positioning, etc. to provide support and comfort.
Lymphedema management by a certified lymphedema specialist to reduce limb swelling, which can limit range of motion and the ability to move and complete ADLs.
Speech and Language Rehabilitation
The speech-language pathologists at the Henry Ford Cancer are there for you before, during and after your cancer surgery and treatments to help you recover swallowing, speech, and cognitive skills that may have been affected.
Our speech-language pathologists participate in the Multidisciplinary Head & Neck Cancer Clinic to provide evaluation and therapy to patients who have received or are currently receiving treatment for head and neck cancer. Whether you're having difficulty swallowing, want to learn more about communicating with a tracheotomy, or need placement and management of a tracheoesophageal voice prosthesis, we have speech-language pathologists who specialize in procedures for head and neck cancer patients. They will follow and provide therapy for you and make sure you have the knowledge and tools necessary to recover your swallowing or communication abilities.
If you have a brain tumor or cancer in the language area of the brain that requires surgery, specialized speech-language pathologists work closely with your Neurological Surgeons during evaluation and treatment. Their involvement includes assessment before, during, and after surgery to see how your language abilities have been affected, to assist with language mapping during tumor removal, and to provide therapy after surgery as needed.
Cancer treatment side effects
Cancer and cancer treatments such as chemotherapy can cause mild impairments such as problems with thinking, memory, language skills, learning and concentration. If you are having difficulty thinking clearly or processing information, an inability to focus or concentrate, and mental cloudiness or foggy-headedness, tell your doctor or nurse navigator right away.
You will be referred for a neuropsychology evaluation, and if you need therapy, will be seen by one of our speech-language pathologists. They will work with you to minimize these side effects so they have as little interference in your daily activities as possible.
Appointments
A physician referral is needed before therapies can begin. Most cancer rehabilitation services are reimbursed by health insurance providers, but check your plan for specific rehabilitation benefits. Henry Ford Cancer Institute has specialty outpatient rehabilitation locations all over southeast Michigan to make it as convenient as possible for you to receive cancer rehabilitation services.

Colleen's Corner: Local and National Resources
Online Resources
Locations