Healing Arts Program at Henry Ford Cancer
Through the Healing Arts program, we provide opportunities for cancer patients, caregivers and the broader community to engage with the arts.
Art and Music Therapy
The arts have powerful healing properties because art connects your mind and your body. Unlike exercise, which works your body, or meditation, which clears your mind, creating art uses both, which research suggests has major health benefits.
When a patient works with an art or music therapist, they can expect to receive the same benefits as traditional talk therapy. In cancer care, we focus on several goals to help relieve the emotional concerns of a cancer diagnosis, including:
Relaxation
New coping skills for diagnosis-related anxiety, depression, and suffering
Outlet for self-expression, creative thinking and problem solving
Greater sense of control
Positive distraction from treatment
Feeling more hopeful
Music Therapy
The David DiChiera Music Therapy Program brings music therapy to cancer patients, their families and caregivers.
Art Therapy
Learn more about the Art Therapy at the Henry Ford Cancer Institute, including what programs are available.
Community Art Opportunities
Patient Art Show
Our 2021 Patient Art Show was on display at Henry Ford Cancer - Detroit in June and July. You can revisit the inspiring gallery here.
Volunteer in the Healing Arts
Become an Arts Engagement Volunteer

Provide patients and their loved ones with an enjoyable, engaging art experience that focuses on the process of making at, not the product, through listening, empathy and relationship building. Apply online.

Share your passion for music as a Visiting Musician

Provide music for our guests, staff and patients. Music should be upbeat and pleasant. Apply online.
Opportunities for Artists
If you are an artist interested in sharing your time and/or talents with Henry Ford Cancer patients, families and staff, contact our healing arts curator.
---
Help a cancer patient heal through the arts. Donate today!
It is through the support and contributions of donors like you that we can provide art and music therapy programs and activities at no-cost to our cancer patients and their families. To sponsor a program or care it forward with a gift, please contact the development office at (313) 876-1031 or email developmenthf@hfhs.org. All contributions are tax-deductible.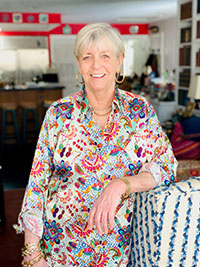 About Lindsay Anderson
With a passion for the arts and a keen eye as an interior designer, Lindsay Anderson knows how important the right space can be. It was this passion that inspired her to establish the Lindsay Anderson Healing Arts Curator Fund at Henry Ford Health. This generous gift supports a curator for the Healing Arts program at the Brigitte Harris Cancer Pavilion. The Healing Arts Program creates a calming environment for patients, visitors and staff by integrating the creative arts and aesthetic experiences into the healing process.
About David DiChiera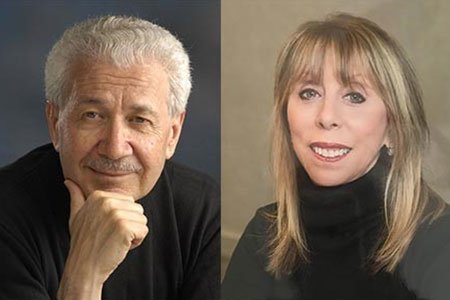 Music is more than just entertainment—it can promote healing, too. David DiChiera, founder and longtime director of the Michigan Opera Theatre knew this. In honor of David, who passed away from pancreatic cancer in 2018, Joanne Danto, along with her family through the Marvin & Betty Danto Foundation, established the David DiChiera Music Therapy Program at Henry Ford Cancer. Their goal is to ensure that cancer patients have access to healing therapies that better position them mentally and physically for their fight ahead.