Treating Cancer Side Effects with Chiropractic Care
Keeping you as comfortable as possible during your cancer treatment.
What is chiropractic care?
Chiropractic care focuses on caring for a patient's muscles, joints, and spine, to restore proper function, decrease pain, and improve overall health. It is an integrative form of health care that uses no drugs or surgery.
At Henry Ford, our experienced chiropractors will work closely with your cancer care team to determine if chiropractic care is right for you. After an initial consultation and exam, a chiropractor will create an individual plan of treatment that may use a variety of non-invasive techniques to help minimize pain and stiffness in the joints and muscles caused or intensified by surgery, chemotherapy or radiation therapy. The goal is keep you as comfortable as possible during your cancer journey.
What are the benefits of chiropractic care for cancer patients and survivors?
Cancer and its treatments can affect the entire body, not just the location of the cancer. Treatment often causes patients to become fatigued and less active than normal, which can lead to stiffness in the joints, muscle spasms, neck and back pain. Chiropractic care can help alleviate the aches and pains associated with cancer treatment and help you progress through care more comfortably. Seeing a chiropractor could be a good care option if you want to:
Alleviate muscle and joint stiffness
Improve flexibility and strength
Decrease back and neck pain
Improve the symptoms of sciatica, headaches, and peripheral neuropathy
What should you expect at your first appointment with a chiropractor?
Your first visit will consist of a detailed medical history, a physical and neurological exam, a range of motion exam, orthopedic tests, and X-Rays if necessary. The chiropractor will then create your treatment plan, and discuss it with you in detail. Each plan is created with patient input as a part of its design, ensuring they are completely comfortable with the treatment being provided. Chiropractors may use a variety of non-invasive treatment techniques such as:
Manual manipulation
Very gentle instrument or table assisted procedures
Joint mobilization
Stretching
Soft tissue work
Lifestyle changes
Home exercises
A referral is not needed to make an appointment for chiropractic care, but call your insurance company to find out what your plan covers.
What kind of training does a chiropractor have?
Chiropractors attend the same amount of classroom hours as medical doctors, and receive their doctorate in chiropractic medicine. They must also pass 4 national board exams to receive licensure to practice chiropractic medicine.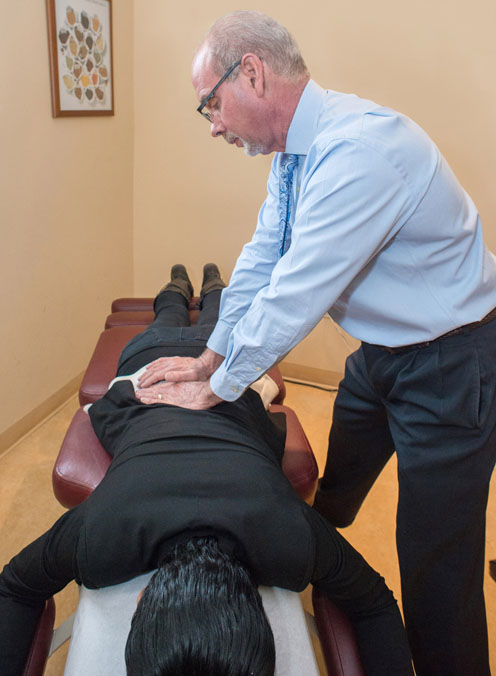 Meet Our Team
Meet the board certified chiropractors of Henry Ford Health.

Colleen's Corner: Local and National Resources
Online resources
A visit with a Henry Ford chiropractor may be the answer for relieving some of your cancer treatment side effects. If you and your care team decide it's a good choice for you, call to make an appointment at one of our two locations today!