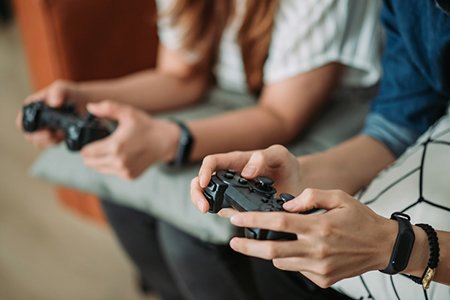 Esports are more popular than ever. Millions of people worldwide, from amateurs to pros, take part in competitive electronic gaming. And while video games may seem like an activity without risk, gamers are susceptible to a wide range of injuries.
The sports medicine specialists at Henry Ford Health understand the unique physical and mental demands of gaming. We provide care for a wide range of esports injuries, getting you back into competition safely and with less pain.
Esports injury causes
Competitive esports players often train for five to 10 hours each day. This rigorous schedule puts repeated and prolonged stress on the same muscle groups and joints. Injuries and pain in the fingers, hands and wrists are common.
Gamers that perform at a high level need excellent hand-eye coordination, agility and intense concentration. Without proper rest periods, this can lead to headaches, fatigue and eye strain. Esports players also sit for long periods of time, often in chairs or at desks that don't offer good body support. Poor ergonomics can lead to issues in the neck, back and shoulders.
Finally, gaming is often an isolated sport. Many young players who have pre-existing social or emotional development issues may find these conditions get worse if they spend too much time in front of a computer screen. Anxiety, depression and other issues can affect a gamer's health.
Esports injuries we treat
The sports medicine specialists at Henry Ford treat a wide range of esports injuries, including:
Back and neck pain, including herniated discs and kyphosis (curvature in the spine that can be due to poor posture)
Carpal tunnel syndrome
De Quervain's tenosynovitis, or gamer's thumb (thumb joint pain)
Migraines and tension headaches
Tennis elbow
Wrist and forearm tendinitis
Esports injury treatment
We use a variety of techniques to help gamers recover from esports injuries, including:
Pain control and injury protection: We start your treatment plan by protecting the injured area so you don't sustain more damage. This might include splinting or bracing. We may also recommend pain relief injections, such as steroid shots, in areas like your wrist or elbow.
Tissue-healing therapies: We may recommend tendon or ligament needling for soft-tissue injuries. During this procedure, we use tiny needles to stimulate healing in damaged tissues. Ultrasound therapy and electrical stimulation can also help treat tendon inflammation and pain.
Strength and conditioning: We encourage gamers to work on total-body strength, especially in the legs, core and back. Improving strength in these areas supports the upper body and reduces the risk of re-injury.
Physical therapy: Many of our physical therapists specialize in finger, hand and wrist injuries. They help you gradually regain joint strength, stability and range of motion once your injury heals.
Ergonomic adjustments: Our sports medicine specialists recommend ways to make your gaming space safer and more comfortable. Adjustments may include using a chair with lumbar (lower back) support or a height-adjustable desk that allows you to sit or stand.
In rare instances, you may need surgery for a gaming injury. At Henry Ford, our orthopedic surgeons specialize in performing the latest minimally invasive procedures. These treatments allow for faster healing and less pain during recovery.
Esports injury prevention and tips for healthy gaming
There are a variety of ways that gamers can reduce their risk of injuries and improve their overall physical and mental health, including:
Eat a balanced, nutrient-rich diet.
Get exercise each day to reduce your risk of chronic health problems.
Make an effort to spend time with friends, family and do non-gaming activities.
Stick to a healthy sleep routine, getting seven to eight hours of rest each night.
Take scheduled breaks to move, stretch and get fresh air.
Esports injury care: Why choose Henry Ford?
Highlights of our sports medicine program include:
Multispecialty team: Our team includes sports medicine physicians, orthopedic surgeons and certified athletic trainers. We work closely with physical therapists, dietitians and behavioral health specialists to ensure your treatment plan is complete.
Minimally invasive treatment options: From Tenex procedures to treat Achilles and Patellar tendons to plasma-rich protein (PRP) injections to treat knee injuries there are options available to reduce procedure time, hasten recovery and increase potential for improved outcomes.
Virtual care: We offer in-person as well as virtual visits for your convenience. Receive expert care from a Henry Ford physician from the comfort and safety of home.
Easy access: Most providers can see you within 24 to 48 hours, so you receive prompt care for your injury. We also have walk-in orthopedic clinics with extended evening hours, so you have access to care at a time and place that works for you.
Request an appointment
Request an appointment or learn more about our sports medicine services. We offer in-person and virtual visits.
Explore our blogs
Learn more about esports injuries: