Take advantage of our programs and services for patients with prostate cancer.
It's natural for patients who are undergoing treatment for prostate cancer to have many questions, such as:
"What will happen to me?"
"How do I keep up with the demands of my job and family?"
"How do I get through this difficult time?"
You don't have to find the answers to these important questions alone. We offer a wide range of support services for patients during treatment including:
Behavioral health care from our Psych-Oncology team, which specializes in helping patients with cancer and their loved ones cope with the challenges of cancer
Complementary therapies, including acupuncture and massage therapy, as part of our integrative medicine
Exercise and Cancer Integrative Therapy Education (ExCITE), personalized exercise programs that have been shown to reduce side effects of cancer treatment and improve mood and energy
Cancer rehabilitation, which can help you reduce pain, fatigue and disability during and after prostate cancer treatment
Fertility preservation, which can help protect your ability to have children despite the potential side effect of chemotherapy and radiation therapy
Men's Sexual Health Clinic helps manage potential side effects of cancer treatment related to men's sexual health.
Genetic counseling and testing, which can be beneficial to understand your family's risk for prostate cancer or if you have prostate cancer that returns after initial treatment
Nutrition care from registered dietitians who specialize in nutrition issues relating to cancer care and treatment
Nurse navigators work to answer your questions and connect you to resource to help meet your and your family's needs.
Caregiver services, support specifically for your loved ones who are involved with your care
Palliative care, which focuses on providing relief from the symptoms of prostate cancer and of treatment, as well as guidance as you make decisions about your care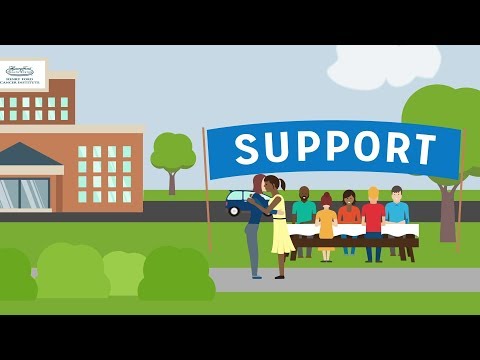 Play
Your Cancer Support Services
From diagnosis to treatment and beyond, learn more about our Cancer Support Services.

Colleen's Corner: Local and National Resources
For more support, visit Colleen's Corner for a list of helpful local and national resources about cancer.
Connect with other patients with prostate cancer

Additional prostate cancer organizations and support