Radiation Therapy for Prostate Cancer
Effective treatment to target and destroy cancer cells.
Your prostate cancer team may recommend radiation therapy as part of your treatment plan. We often use radiation therapy alongside prostate cancer surgery to kill any remaining cancer cells, or if the prostate cancer has spread (metastasized). We also can combine it with other treatments, such as chemotherapy.
What are the benefits of prostate cancer radiation therapy?
Radiation therapy allows us to shrink and kill prostate cancer cells without harming nearby tissue or organs.
In most cases, you can receive your radiation treatments in a period of three and a half to four weeks — a much shorter timeline than in years past. Some patients may be able to get their treatments in as little as one week. This means less inconvenience and less time away from work, family and other responsibilities.
What types of prostate cancer radiation therapy are available?
Henry Ford is a world leader in new approaches to radiation therapy and the fast-developing field of radiosurgery, a type of radiation that uses precise, advanced technology to deliver higher doses of radiation in fewer sessions.
We will tailor your radiation treatment plan to your specific prostate cancer diagnosis. Our radiation oncologists offer the latest prostate cancer treatment therapies, including:
MRI-guided radiation therapy may be an option for select patients. With this new system, called ViewRay MRIdian Linac®, we can provide precise and accurate radiation treatment to the prostate. To help protect healthy tissue near cancer cells, imaging is done at the same time radiation treatment. This allows physicians to accurately target the cancer cells and use a strong dose of radiation to kill the cancer.
External beam radiation therapy (EBRT) involves using high-energy rays to kill prostate cancer. The rays are similar to X-rays, and the painless treatment is often used for low-grade cancer.
Three-dimension conformal radiation therapy (3D-CAT) uses special computers to find the precise location of the prostate cancer. From several directions, the radiation beams are aimed at the prostate gland, making it less likely to damage normal tissue
Intensity modulated radiation therapy (IMRT) involves using a machine that moves and delivers radiation to the prostate. To allow the doctor to provide higher doses of radiation, the beams are shaped and precisely aimed. This treatment may take weeks to complete.
Image-guided radiation therapy (IGRT) allows the doctor to take images of the prostate so adjustments can be made immediately before aiming the radiation beams.
Stereotactic body radiation therapy (SBRT) involves delivering a large dose of radiation to precisely obliterate cancer cells in the prostate. The treatment may be completed in a few days, but the side effects may be greater than with IGRT.
Internal radiation therapy (brachytherapy or interstitial brachytherapy) involves inserting about 100 tiny seeds directly into the prostate while the patient is in the operating room. The treatment is often used for low-grade and slow-growing cancer, or it may be used in addition to external beam therapy for higher-risk cancer growing outside the prostate.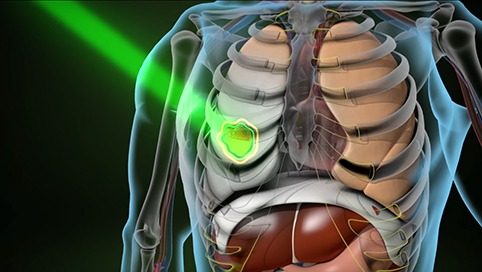 Play
Precise Radiation
Advanced radiation technology combined with real-time tumor imaging delivers accurate, precise treatment that is tailored to each patient.