Most people with the disease do not experience any glaucoma symptoms until some vision loss has occurred.
Unfortunately, most people do not notice any symptoms of glaucoma until the disease has significantly damaged their optic nerves. As optic nerve fibers are damaged by glaucoma, small blind spots begin to develop, usually in the side – or peripheral – vision. All vision loss from glaucoma is irreversible.
Take the Next Step
Let us help you schedule an appointment with a board-certified ophthalmologist.
What are the Symptoms of Glaucoma?
Glaucoma can strike without warning, and in many cases there are no symptoms until it's advanced. Left untreated, it leads to blindness, so early detection is key.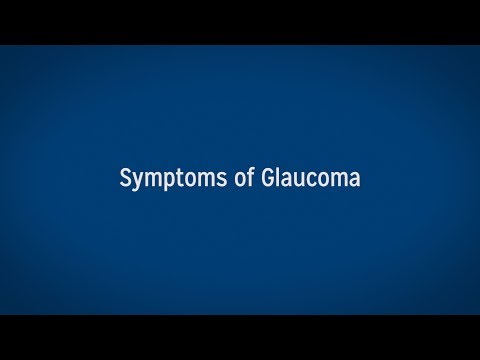 Play
Glaucoma symptoms
When glaucoma symptoms do present, they can vary depending on the type of glaucoma. Open-angle glaucoma often develops gradually and painlessly, with no early warning signs. Many times the first symptoms of glaucoma occur only after significant vision has already been lost.
Acute angle closure glaucoma, which results from a sudden blockage of drainage channels in the eye, causes a rapid buildup of pressure accompanied by several symptoms of glaucoma, which can include:
Blurred vision
The appearance of colored rings around lights
Pain or redness in the eye
Why is glaucoma harmful to vision?
The optic nerve at the back of the eye carries visual information to the brain. As the fibers that make up the optic nerve are damaged, the amount and quality of information sent to the brain decreases, resulting in vision loss.
Will I go blind from glaucoma?
If diagnosed at an early stage, glaucoma usually can be controlled:
If left untreated, side vision (peripheral vision) and central vision can be lost, leading to irreversible blindness.
A regular eye examination, including testing for glaucoma, is an important preventive eye care practice for people over the age of 35, even if you have no glaucoma symptoms.
At Henry Ford, patients come first.
The Henry Ford Department of Ophthalmology is committed to providing our patients with compassionate, personalized care. We feature the most advanced treatments in eye care and are dedicated to vision research – always staying at the forefront of innovation. A leader in Michigan, as well as one of the largest ophthalmology practices in the United States, we treat more than 55,000 patients per year at 12 locations throughout southeast Michigan. In addition, our team works closely with Henry Ford Medical Group physicians in other departments, providing multidisciplinary, coordinated care for those patients who need it.