Glaucoma surgery includes advanced glaucoma laser treatments and other procedures used to lower eye pressure.
In most cases, glaucoma treatment begins with prescription eye drops. Although there is no cure for glaucoma, these and other treatments are designed to prevent loss of vision by lowering the pressure in the eye. In some cases, glaucoma laser treatments or other glaucoma surgery may be required.
Take the Next Step
Let us help you schedule an appointment with a board-certified ophthalmologist.
What are the Surgical Options for Glaucoma?
Advanced glaucoma surgery options for lowering eye pressure include laser and other minimally invasive treatments.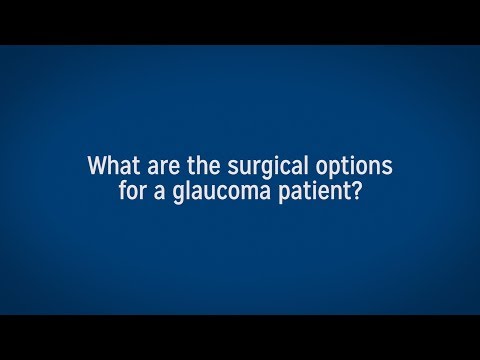 Play
Advanced glaucoma surgery
As with other forms of treatment, glaucoma surgery is designed to either decrease fluid production in the eye or increase the drainage of fluid from the eye. Our experienced ophthalmic surgeons offer several types of glaucoma laser surgery and other procedures, including:
Trabeculoplasty: This glaucoma laser surgery helps improve fluid drainage. It is most often used to treat open-angle glaucoma.
Iridotomy: Used to treat angle-closure glaucoma, this glaucoma surgery uses a laser to make a small hole in the iris (the colored part of the eye), which allows fluid to flow more freely within the eye.
Laser cyclophotocoagulation: This type of glaucoma laser surgery reduces the production of fluid in the eye. It is most often used for more advanced cases of glaucoma.
Trabeculectomy (filtration surgery): This glaucoma surgery removes a microscopic piece of the wall of the eye (sclera), leaving a tiny hole that allows the fluid to drain.
Glaucoma drainage devices: This glaucoma surgery, also known as aqueous shunts or glaucoma implant surgery, creates a new drainage system in the eye.
Minimally invasive glaucoma surgery: This includes placement of an iStent® implant, which can bypass areas of restriction in the eye's normal drainage pathways.
At Henry Ford, patients come first.
The Henry Ford Department of Ophthalmology is committed to providing our patients with compassionate, personalized care. We feature the most advanced treatments in eye care and are dedicated to vision research – always staying at the forefront of innovation. A leader in Michigan, as well as one of the largest ophthalmology practices in the United States, we treat more than 55,000 patients per year at 12 locations throughout southeast Michigan. In addition, our team works closely with Henry Ford Medical Group physicians in other departments, providing multidisciplinary, coordinated care for those patients who need it.