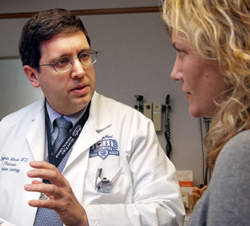 In every area of our lives, we experience constant innovation. From the cars we drive to the places we work to the technology that we carry with us. Why not in healthcare? This is the question that the Henry Ford Medical Group has asked since its inception more than 100 years ago.
Population health management
The Henry Ford Medical Group provides our physicians with a strong system of administrative support and a streamlined delivery of care -- ensuring that our physicians can focus on providing the best patient care to our community. One powerful tool is our Population Health Management strategic initiative, which seeks to improve the overall health outcomes of specific populations. Through accumulation and analysis of population data, we can implement programs that keep patients as healthy as possible, reducing the need for hospitalizations, emergency room visits and medical procedures.
Ultimately, this initiative seeks to create value through:
Improved clinical outcomes
Improved patient experience
Lower cost
Specialty centers
Henry Ford Hospital is the flagship hospital for Henry Ford Health, located in Detroit's Midtown. An 877-bed tertiary care hospital, education and research complex recognized for clinical excellence and innovation in cardiology and cardiovascular surgery, neurology and neurosurgery, orthopedics and sports medicine, organ transplants, and treatment for cancers. It is also a Level 1 trauma center and one of the largest teaching hospitals in the United States.
Henry Ford Heart & Vascular Institute
The Henry Ford Heart & Vascular Institute is one of the nation's top centers for heart and vascular disease. Our volumes are among the highest in the Midwest, giving us the experience to set protocols that become national standards. In fact, we are often the first to test or develop new heart disease treatments.
Our experts at the Center for Structural Heart Disease continue to develop new routes to the heart to replace heart valves when traditional routes are unavailable -- and recently became the only team in the world performing transcaval TAVR by creating a new route to the heart to implant an artificial heart valve.
Henry Ford experts are innovating tomorrow's health today in heart failure, cardiac transplantation, vascular disease, valve replacement, heart attack care, rhythm disorders and hypertension and vascular research, cardiac rehabilitation and Heart Smart™ education.
Henry Ford Cancer
Henry Ford's cancer experts have treated patients from every continent and all 50 states. Our guiding principle for the delivery of superior care demands a multidisciplinary approach with the best experts at the table to treat each patient.
Nationally recognized, fellowship-trained cancer surgeons, radiation and medical oncologists and other specialists staff our 14 tumor boards and several multidisciplinary clinics. The breadth and depth of technologies and treatments pioneered and used routinely by our cancer specialists ensures access to the best care for your patients.
These include robotic procedures, stereotactic radiosurgery techniques, advanced intraoperative imaging and a Precision Medicine partnership with Syapse that will bring this groundbreaking treatment option to more patients. We offer patients 24-hour-a-day nurse coordinators and concierge services.
Henry Ford Transplant Institute
The Henry Ford Transplant Institute is one of the largest and well respected multi-organ transplant centers in the United States.
As Michigan's most comprehensive transplant program, the Henry Ford Transplant Institute offers transplantation of the liver, kidney, pancreas, intestine and multivisceral organs, heart, lung and bone marrow stem cell.
The Institute is always on the forefront of transplantation science, and performs the most advanced minimally invasive procedures and living organ donation for liver and kidney transplants. Our commitment to quality leads to outcomes that meet or exceed expected survival rates where we use the most effective clinical strategies to increase transplant rates while maintaining superior patient outcomes.
Henry Ford Neuroscience Institute
The Henry Ford Neuroscience Institute is one of the nation's top centers for neurological diseases, offering some of the most advanced therapies for stroke, brain tumors, epilepsy, spine and movement disorders, as well as other neurological conditions.
Henry Ford Hospital is one of a select few hospitals in the country certified as a comprehensive stroke center; the comprehensive epilepsy center is a certified level 4 center with 11 epilepsy monitoring beds; and the brain tumor center is home to the most advanced clinical trials and latest imagining technology, which is able to give surgeons enhanced imaging before and during surgery.
Henry Ford has one of the largest neuroscience spine programs in Michigan, collaborative neurosurgery and orthopedic spine surgery that lead best practices in complex and minimally invasive spine care. The movement disorders team offers a wide range of diagnostic and treatment options, integrating medical, surgical and rehabilitation services for state-of-the-art treatment. The center was one of the first in the country to provide deep brain stimulation for Parkinson's disease, both awake and asleep, in Michigan.
Henry Ford Orthopedic Surgery
As one of the largest and most advanced groups in the country, Henry Ford offers fellowship trained subspecialists in all areas of orthopedics, including trauma, oncology, spine, joint replacement, hand, foot and ankle, and sports medicine.
The Henry Ford Bone and Joint Research Center includes a motion analysis lab and researchers dedicated to advancing care related to mechanical loading on skeletal tissue and structural morphology and physiology, bone fractures and cartilage degeneration. Our Sports Medicine specialists are the team physicians for the Detroit Lions, and more than 20 high schools and colleges, and are designated as one of only a few Olympic rehabilitation centers in the country.
Henry Ford Vattikuti Urology Institute
Vattikuti Urology Institute is the leading and most experienced prostate cancer program in the world. As the pioneers of robotic prostatectomy, Vattikuti Urology Institute's innovations have made robotic prostatectomy the surgical standard of care for prostate cancer.
We also continue to innovate techniques to improve recovery time and results for our patients.
Patients seeking the best care have traveled to Detroit from all 50 states and every continent -- including Antarctica -- to receive treatment from the urologists at Henry Ford. With our innovative, multidisciplinary approach, we are also the training center for surgeons around the globe in robotic prostate surgery, kidney and adrenal surgery, bladder surgery and pediatric urologic procedures.
Critical Care
Henry Ford Hospital's ICU complex is the largest in Michigan. We staff our ICUs with multidisciplinary teams that include board-certified intensivists, specialty physicians, nurses, physician assistants, pharmacists, respiratory therapists, physical therapists and dieticians, so that we can treat the 88,000 ICU patients we see every year with the best possible care.
Digital innovations
The Henry Ford Medical Group has long been a leader in practice redesign, finding ways to make our clinical care safer and easier for our patients through such innovations as EMR. Our latest advancements include:
Electronic imaging: This provides physicians instant access to all radiology studies throughout the health system. The digital images are shown in real time and multiple images can be viewed simultaneously. This innovation has cut image processing and report time in half, resulting in significant cost savings.
E-Prescribing: The Medical Group was the first in southeastern Michigan to use e-Prescribing, a system that allows physicians to write prescriptions from a personal computer or wireless device and send them directly to pharmacies. E-Prescribing reduces harmful drug interactions by alerting physicians of possible risks, increases generic utilization rates and eliminates illegible hand-written prescriptions that can lead to medication errors.
To Learn More
To learn more about opportunities within the Henry Ford Medical Group, call (313) 874-4674.