Running is a widely popular activity for people of all ages and skill levels. Whether you're a marathoner or a weekend warrior, you can rely on the sports medicine experts at Henry Ford Health for expert running injury care.
Running injury causes
Marathon and distance runners often have rigorous training schedules. High mileage puts repetitive stress on your muscles and joints. Combined with the impact of a hard surface, running pain and chronic overuse injuries are common.
Running-related injuries can also be the result of doing too much, too soon. Runners may start running long distances or at high speeds without the proper training and conditioning. This leads to lower body problems such as foot, ankle and knee pain.
Common running injuries we treat
The sports medicine specialists at Henry Ford treat common and complex running injuries, including:
Achilles and patellar tendinitis
Hamstring injuries
Iliotibial band syndrome
Patellofemoral pain syndrome (runner's knee)
Plantar fasciitis
Shin splints
Stress fractures
Running injury treatment
As a runner, the last thing you want to hear is that you can't keep training. That's why our team works with you to build a care plan of "relative rest". We use the following techniques to help you stay conditioned while you rest and heal your injury:
Low-impact exercise: Our Center for Athletic Medicine features state-of-the-art equipment for low-impact, weight-bearing exercise. An anti-gravity treadmill helps you maintain and improve endurance without putting stress on your joints.
Viscosupplementation: This therapy is ideal for runners with osteoarthritis. We inject hyaluronic acid (a gel-like fluid) into your knee. It lubricates the joint and reduces pain and friction with movement.
Platelet-rich plasma (PRP) therapy: Some soft tissue injuries, may benefit from PRP therapy. Injections of platelets from your own blood can help muscle, ligament and tendon tears heal faster.
Gait analysis: 3D software helps us evaluate your body mechanics when you run. We identify improper technique or muscle imbalances that may be contributing to overuse injuries. Physical therapists and certified athletic trainers help you adjust your form to prevent re-injury.
Running injury prevention
Follow these tips to reduce your risk of running injuries:
Alternate periods of activity and rest so that you can recover between workouts.
Run on level surfaces whenever possible.
Strengthen your upper body, back and core to take stress off your lower body.
Warm up and cool down before and after every run or race.
Wear the right shoes for the type of running you do, such as road, trail or track running.
Running injury care: Why choose Henry Ford?
At our sports medicine program, you'll find:
Trusted team: Henry Ford is the official healthcare provider for the Detroit Free Press Marathon. We also provide care for high school and collegiate runners throughout Michigan. We're trusted in the community to provide expert care.
Minimally invasive treatment options: From Tenex procedures to treat Achilles and Patellar tendons to plasma-rich protein (PRP) injections to treat knee injuries there are options available to reduce procedure time, hasten recovery and increase potential for improved outcomes.
Convenient access: Most providers can see you within 24 to 48 hours, so you receive prompt care for your injury. We offer in-person and virtual appointments. Henry Ford also features walk-in orthopedic clinics with extended evening hours to fit your busy schedule.
Care for the whole athlete: We evaluate every aspect of your running performance to help you heal from injuries and achieve your speed and distance goals. From nutrition and sleep, to gait and footwear, we're your single source for comprehensive care.
Focus on performance: Our Sports Performance Program helps runners of all ages and activity levels reach their athletic goals. Experts perform in-depth gait analyses and provide techniques and training to help you improve your performance and prevent injuries.
Request an appointment
Request an appointment or learn more about our sports medicine services. We offer in-person and virtual visits.
Explore our blogs
Learn more about running injuries and injury prevention: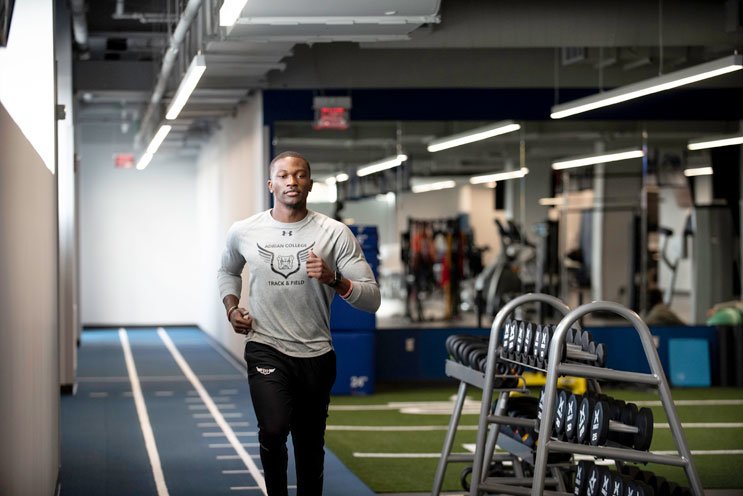 Return to Running After Knee Surgery
After recovering from a knee injury Randy went on to run All-American.
Getting Back on Track After Hip Surgery
Six months after hip surgery, Kourtney helps her team win the gold medal at the Junior Olympics.