Diagnosing Hand and Wrist Conditions
Hand and wrist pain can impair every aspect of your life and slow you down. The orthopedic specialists at Henry Ford Health are experts at diagnosing hand and wrist conditions. We accurately determine the cause of problems like carpal tunnel syndrome and trigger finger and connect you to the right treatment. You can get back to doing what you love as quickly as possible.
The right hand diagnosis leads to the right care
Whether you have lingering hand pain or an acute wrist injury, quick and accurate diagnosis is essential. Our state-of-the-art diagnostic tools make it simple to get answers. In most cases you will be seen within two days of contacting our outpatient clinic.
Your hand and wrist doctor will perform a physical examination and may recommend diagnostic imaging. This combination gives us clear information about the cause of your pain and points the way to the best treatment.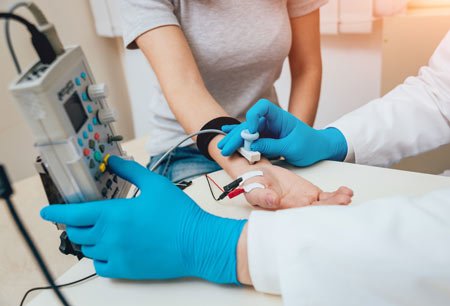 Depending on your condition, your orthopedic doctor may use diagnostic technologies such as:
Magnetic resonance imaging (MRI): An MRI uses a magnetic field and radio waves to create detailed images of structures inside the body. It is ideal for diagnosing tendon, ligament and cartilage issues including skier's thumb, tendon ruptures, unusual lumps and triangular fibrocartilage complex (TFCC).
CT scan: A CT scan combines x-rays and computer technology to generate detailed cross-sectional images of the body. Doctors use CT scans to understand complex fractures and fracture healing.
Ultrasound: Ultrasound uses high-frequency sound waves to get a detailed look at structures in the body. It is useful for examining tendon injuries in the hand, wrist and elbow.
Electromyography (EMG) and nerve conduction test (NCT): Electrodes attached to the skin or needles inserted in the skin assess electrical activity of skeletal muscles or nerves. EMG and NCT are used to evaluate conditions like carpal tunnel syndrome, cubital tunnel syndrome and radial tunnel syndrome.
X-ray: X-rays use electromagnetic radiation to produce an image of bones. Your doctor will order X-rays if he or she suspects a broken bone.
Put yourself in good hands at Henry Ford
An orthopedist at Henry Ford can help you understand the extent of your hand or wrist issues. Our expert diagnosis helps you get the treatment you need to avoid further damage and get back to the activities you love.
Learn more about our hand and wrist team or request an appointment today.