Using radiosurgery to destroy tumors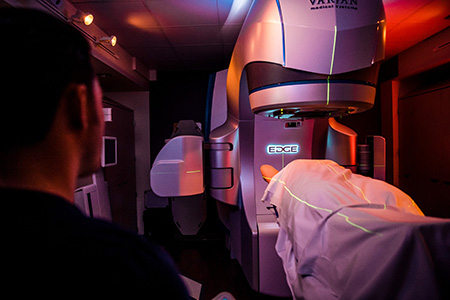 Radiosurgery, also known at stereotactic body radiation therapy (SBRT), "removes" a tumor by delivering a high dose of radiation to a very precise area. This is a medical, not surgical treatment. Our Radiosurgery/Stereotactic Body Radiation Therapy (SBRT) program uses the most advanced radiosurgery technology, such as shaped-beam radiosurgery, image-guided radiosurgery, and intensity-modulated radiotherapy (IMRT). These technologies allow us to treat tumors anywhere in the brain, spine or body, including head and neck, lung, liver and pancreatic cancer.
Patients who undergo radiosurgery treatment in the morning can return to daily activities in the afternoon. Radiosurgery often requires a single dose of treatment but in some cases may require up to five sessions.
Our radiosurgery technology allows us to match the shape and size of the tumor from all angles, shape the radiation beam to deliver different levels of radiation intensity, and protect healthy tissue during radiation treatment. Two of the state-of-the-art systems we use in radiosurgery include:
The Edge® Radiosurgery System: As the first hospital in North America to offer the Edge®, we have treated more patients than any other hospital and the region. The Edge® is the most advanced radiosurgery treatment available. Its knife-like beam targets and treats tumors that are difficult to reach with traditional surgery. The Edge® uses a real-time tumor tracking system so clinicians can detect slight tumor movement. This minimizes the amount of radiation hitting surrounding healthy tissue.
TrueBeam™ Radiotherapy System: The TrueBeam™ system allows us to synchronize radiation therapy and radiosurgery treatment with the patient's breathing patterns to compensate for motion, and provides features to deliver advanced speed and accuracy.
Our imaging tools track motion during treatment, so radiation targeting can be immediately adjusted if you shift by even a few millimeters. There are also tools for synchronizing treatment with your breathing patterns to compensate for motion.
The Edge radiosurgery system
With the Edge radiosurgery system, tumors that are typically difficult to reach with traditional surgery can be targeted and treated with power and precision. The Edge system works by delivering large, targeted doses of radiation to obliterate cancer cells. To accurately deliver the recommended amount of radiation, the beam treats each part of the tumor from many different angles. Using precise beam sculpting and a real-time tracking system, we are able to deliver high radiation doses to destroy the tumor while minimizing exposure to surrounding healthy tissue. With an eye toward improving treatment ease and convenience, patients can expect a more comfortable experience because treatments with the Edge are typically completed within about 20 minutes, and most patients only need between one and five sessions.
What to expect during radiosurgery
Henry Ford radiosurgery specialists design a personalized radiosurgery treatment plan for every patient. In general, radiosurgery planning and treatment involves six main steps:
Patient Evaluation: For radiosurgery, it is important to know how you will handle the procedure while awake. The radiosurgery physician will meet with you to discuss the radiosurgery treatment planning and procedure details.
Patient Positioning: Radiosurgery is an image-guided procedure. The positioning of your head and body for treatment is important. Imaging studies as well as the tumor's 3D geometry and planned radiosurgical beam entry and exit must be analyzed and planned. Because the radiosurgical beam is directed from outside the body, any patient movements must be minimized. Many positioning technologies, such as an optical device and image guiding device, are used.
Stereotactic Target Localization: Once your physical position is determined, the "target" for radiosurgery treatment (the tumor or other lesion) must be precisely located in relation to the surrounding normal tissue and body. This step is also called "simulation." Since the radiation calculation formula is based on computed tomography (CT) parameters, CT simulation is usually used. These images will be used for mapping of the tumor and normal tissues. 3D stereotactic parameters are obtained at this time. Some measurements are performed in relation to body positioning.
Radiosurgical Beam Design: This step requires sophisticated computerized calculations and 3D graphics. For a better visualization of the tumor, the CT image is fused with other images including MRI, PET, and functional imaging. The radiosurgery beam is designed using techniques of 3D beam shaping, radiation dose painting, and radiation beam intensity modulation. Beam entry and exit as well as critical structures in the path are checked. There will be a dry-run of the treatment and extensive quality assurance checks before the treatment design is finalized by the radiosurgery physician.
Radiosurgery Treatment: You will be brought to the radiosurgery suite for repositioning exactly the same as determined in the planning step using image-guidance and stereotactic localization parameters. The radiosurgical beam is delivered to the tumor by remote-controlled robotic movement of the radiation equipment. During this session, only you are allowed in the treatment room. Constant monitoring and motion tracking are performed. Radiosurgery does not require hospitalization. You can usually resume regular activities the same day or the following day.
Follow-up: Radiosurgery treatment includes regular clinical exams and imaging studies. Each patient's treatment and follow-up results are discussed at the appropriate Tumor Board at Henry Ford.
Expert Care
Our radiation oncology team is known for developing the most advanced cancer therapies, including radiosurgery.