MRI-Guided Radiation Therapy
Simultaneous tumor tracking and treatment delivers precise, accurate radiation.
Henry Ford Cancer is the first in the world to offer patients an advanced radiation therapy that uses an FDA-approved real-time magnetic resonance imaging (MRI) to deliver more precise and accurate radiation treatment using a linear accelerator.
With this new system, called ViewRay MRIdian Linac®, it is now possible to image the treatment area and deliver radiation at the same time -- more effectively protecting surrounding healthy tissue.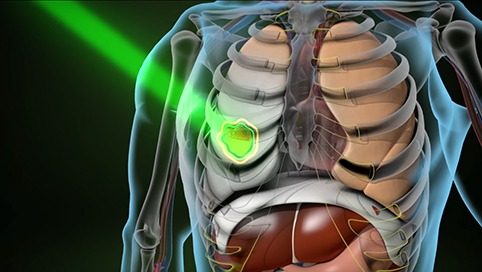 Play
Precise Radiation
Advanced radiation technology combined with real-time tumor imaging delivers accurate, precise treatment that is tailored to each patient.
Real-time radiation therapy adjustments now possible
During a radiation treatment, it is natural for a tumor to move or for the body's organs to move and change shape, even during your normal breathing patterns.
That's what makes the MRIdian Linac technology different. Because the MRI images show organs and structures inside the body in real-time, this new system allows your care team to make adjustments to the position and dose of radiation being given during treatment. Being able to constantly see both the tumor and surrounding organs means your team can accurately align the tumor to the treatment beams and make adjustments in real time to avoid sensitive internal structures.
The result is a treatment that is tailored just for you. This is personalized radiation treatment at its best.
MRIdian Linac system enhances radiation therapy with:
Personalized treatment. By continuously observing and assessing the patient's tumor and internal organs, clinicians can tailor treatment to each individual.
Precision and accuracy. High-quality images and continuous soft-tissue imaging are provided while the radiation beam is on.
Real-time imaging. When clinicians can clearly see the target and watch where the radiation is being delivered, they are better able to adapt to changes in the patient's anatomy.
Ensuring the quality of radiation therapy
Nearly two-thirds of all cancer patients in the United States will receive some form of radiation therapy during their course of treatment.
Radiation therapy has been in use for more than 100 years. During that time, many advances have been made to ensure that treatment is safe and effective.
With each advancement, new quality checks have been developed to ensure safe treatment. Special computers are used to monitor and double-check the treatment machines to ensure the proper treatment is given.
Protecting healthy tissue during treatment
While this new technology will be used to treat all types of cancers, it is especially beneficial for tumors where there is typically movement during treatment, including tumors in the liver, pancreas, adrenal and lung areas. Other types of cancer this advanced system will deliver a new level of care to include breast, prostate, kidney, and gynecologic cancers, among others.
Connecting you with the most advanced, appropriate care
The ViewRay MRIdian Linac® MRI-guided radiation therapy system is available at the Henry Ford Cancer Institute at Henry Ford Medical Center-Cottage in Grosse Pointe Farms.
Our experienced radiation oncology team can help connect you with the most appropriate technology for your type of cancer. For more information, call (888) 777-4167.
SMART trial for pancreatic cancer
Henry Ford Cancer's Department of Radiation Oncology is offering a new clinical trial called SMART (Stereotactic MRI-guided On-table Adaptive Radiation Therapy Trial) to study the effectiveness of delivering ablative doses of radiation to pancreatic cancer patients using ViewRay's MRIdian system.
Parag Parikh, M.D., the Henry Ford Cancer's director of GI Radiation Oncology and MRI-Guided Radiation Therapy, is co-principal investigator for this five-year, multi-institutional study. The trial will enroll 133 patients with borderline resectable or inoperable locally advanced pancreatic cancer.
Prior analysis has shown that MRI-guided radiation therapy may be a promising therapy for treating locally advanced pancreatic cancer. This suggests the potential for improving the survival of patients who received lower radiation doses without increasing the side effects of serious gastrointestinal toxicity.
For more information about this study, call the Department of Radiation Oncology at (313) 916-1021.
In the News...