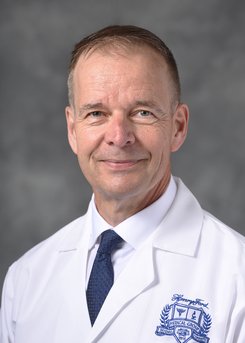 Board Certification and Education
Board Certifications
American Board of Psychiatry and Neurology - Neurology
Education
University of Calgary, 1983
Residencies & Internships
Montreal Neurological Hospital & Institute, Neurology, 1988
Foothills Medical Center, 1985
Fellowship
Ludwig Institute For Cancer Research, Cellular and Molecular Biology, NY, 1992
About Me
I specialize in neuro-oncology, brain tumors and clinical trials.
Titles:
Medical Director, Precision Medicine Program & Clinical Trials
Biographical Statement:
Internationally recognized in the neuro-oncology and precision medicine areas, Dr. Mikkelsen received his MD from the University of Calgary, Canada and completed clinical training in neurology at the Montreal Neurologic Institute. Following this, he did post-doctoral training in brain tumor cellular and molecular biology at the Ludwig Institute for Cancer Research in Montreal and then in La Jolla, California. He has had an accomplished 23-year career with Henry Ford Health System, where he co-founded and managed the Hermelin Brain Tumor Center (HBTC), including the brain tumor biorepository - an internationally recognized resource for biospecimens and the clinical annotation associated with them, for more than 20 years.

He has a long track record in clinical trials for both cancer and neurologic disorders, including as president and chief scientific officer at the Ontario Brain Institute. Dr. Mikkelsen currently serves as the medical director of the Henry Ford Health Precision Medicine and Clinical Trials Program.
Philosophy
The internet age has been empowering for many patients dealing with a new diagnosis of a brain tumor. However, there is way too much unfiltered content and it takes a real multidisciplinary team to partner with a patient and their family to formulate the best plan of care. We have access to many novel and innovative approaches to treatment to compliment current state-of-the-art treatment. The goal, of course, is to maximize the quality of a person's life, despite the challenges. This means emotionally, mentally and physically. I pride myself on engaging a patient, the team and moving ahead in the most promising way possible.
Research Interests
Hermelin Brain Tumor Bank and Personalized Brain Tumor Therapy: HBTC is a leader in the understanding of the genetics of brain tumors, and in the development of therapies matched to each patient's brain tumor genetics for the best chance at recovery. The Center is a major contributor to The Cancer Genome Atlas (TCGA) - a national cooperative of major academic medical centers sponsored by the National Institutes of Health, responsible for identifying certain survival-related genes. The data generated from the TCGA and the 1000 tumor tissues in the tumor bank are a major resource for each of the HBTC's research laboratories. HBTC resources constitute some 40% of resources in the national TCGA program.

Brain Tumor Neuro-imaging: Dr. Mikkelsen's laboratory has collaborated extensively with small animal imaging, clinical neuroradiology, and image analysis for pre-clinical and clinical brain tumor studies, primarily using perfusion CT and multiple MRI techniques. The long-term goal is to validate imaging biomarkers as measures of therapeutic response toward targeted therapies.

Dr. Mikkelsen works closely with Dr. Tobias Walbert and Dr. Jim Snyder, neuro-oncology colleagues, with clinical research interests focus on outcomes research.


Research Web Links
American Brain Tumor Association
Clinical Trials.gov
National Brain Tumor Foundation
National Cancer Institute
New Approaches to Brain Tumor Therapy


Award and Honors
Additional (Examined) Certification, United Council of Neurologic Subspecialties of NeuroOncology (2012)
Author of 175 publications and co-editor of a text book on brain tumor invasion
"Top Doc", HOUR Detroit (2003, 2004, 2005, 2006 & 2007)
Best Doctors for Oncology, HOUR Detroit (2007 and 2008)
Locations
2800 W Grand Blvd
Detroit,
MI
48202
Henry Ford Hospital
2799 W Grand Blvd
K11
Detroit,
MI
48202
Henry Ford Hospital
Henry Ford West Bloomfield Hospital
Henry Ford Wyandotte Hospital