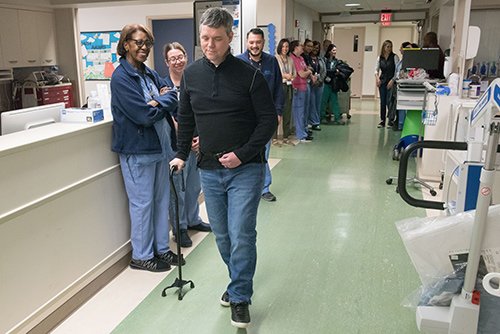 Waking up the day after Thanksgiving in 2018, Dr. Todd Aho's morning didn't started off as usual. His vision was blurred. He struggled to keep his balance. Unable to steady himself, he knocked the alarm clock off the bedside table, waking his wife Amy. She called out to him and was met with a slurred response.
"I asked him to smile," she recalls. Amy, who worked for the Henry Ford Department of Neurosurgery, immediately recognized his droopy facial features – a telltale sign of stroke.
"Buddy, I think you're having a stroke."
As a 47-year-old up and coming neuroradiologist at Henry Ford Hospital, it was the last thing Todd expected to hear. Neuroradiologists specialize in the diagnosis and treatment of stroke and other conditions in the head, spine and vascular system using advanced imaging equipment. He'd diagnosed and treated many patients with stroke throughout his career.
"Even after she told me, I thought 'well, I don't have any risk factors', so it was hard to accept that possibility," says Todd. Between daily workouts at home and playing hockey twice a week, he had no reason to be concerned about his health.
Amy called 9-1-1 and Todd was taken to the nearest hospital where it was confirmed he was having a stroke. The doctors performed a mechanical thrombectomy – a minimally-invasive procedure to clear the blocked artery that caused his stroke. But he was not out of the woods. His condition was serious and the stroke had caused a lot of damage. The next day, Todd was transferred to Henry Ford Hospital. There, he would undergo two advanced brain surgeries with Henry Ford neurosurgeon, Jack Rock, M.D., including removing a piece of Todd's skull to allow the brain room to swell and heal.
Waking up in the hospital, Todd says his first thought was fear. The stroke left him unable to move the left side of his body. After two and a half weeks in the neurocritical care unit at Henry Ford Hospital, he was transferred to a nearby rehabilitation center for inpatient occupational and physical therapy with hope that he would regain the movement of his left side. Todd had a long road ahead, but he and Amy were hopeful. He was able to finally return home six weeks later to continue his recovery. Months of rehabilitation, tests and doctor appointments followed.
Unfortunately, Todd's recovery was not without complication. He developed kidney stones which caused infection to spread to the site of his brain injury. To treat this infection, Dr. Rock performed a third surgery using a new procedure that allowed him to save a piece of Todd's skull by infusing antibiotics into his scalp at the site of his prior surgery.
"You want your doctor to do what is medically best for you, but also to take care of you as a person," says Amy. "Dr. Rock developed a unique procedure specific to Todd that was different from anything done at Henry Ford before."
Steps in the right direction
Following his stroke, Todd was told that based on his brain scans, most of the movement he would regain would happen in the first six months of his recovery. However, by July, seven months after his stroke, Todd was still without movement on his left side. Even then, he refused to let his scans define what he was capable of. He kept working hard to get back what he'd lost.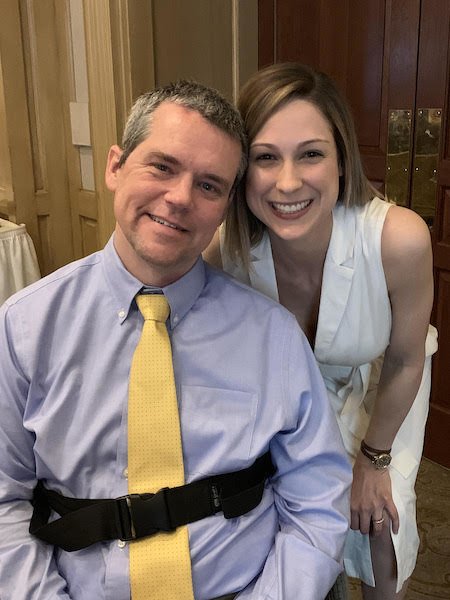 "You treat the patient, not the image," says Amy, describing Todd's motto throughout his professional career. "You treat someone for who they are and what is happening to them outwardly opposed to what you see on a scan." This helped to keep Todd going during his recovery.
Then something surprising happened. After an unexpected seizure at a follow-up appointment, Todd slowly started to regain feeling on his left side. By the end of the month, he had movement in his left leg. By December 2019, over a year after his stroke, Todd was able to walk unassisted.
Despite all they went through, Todd and Amy say they have much to be thankful for, including all the doctors, nurses and professionals they encountered along the way.
"We love our Henry Ford docs – they're like family," says Amy.
After their life-changing experience, they say they both have a new outlook on life and are ready to navigate their future together. While Todd no longer practices medicine, he now volunteers with the Wayne State University School of Medicine and the residency program through Henry Ford.
"I am looking forward to using my medical knowledge to help out medical students and our residents," says Todd. "Maybe I'll even write a book."