Prompt Treatment After Vision Loss Leads to Lifesaving Surgery
Laurie's Story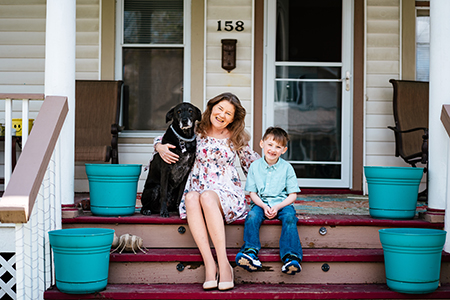 At 56 years old, Laurie Longueuil, of Mt. Clemens, describes herself as a 52-year type 1 diabetes veteran.
When doctors told her mom that she would likely be blind by the time she was 12, it was the first of many instances when she has overcome some of the devastating potential effects of the disease.
Despite being health conscious throughout her life, dealing with diabetes has led to many hospital visits.
Henry Ford has been Laurie's health care provider of choice
"Both of my kids were born at Henry Ford Hospital and I have had stent treatment for two heart attacks in 2016," Laurie explains. "Henry Ford is the only health system I will go to because of the excellent care I receive."
In March of 2023, Laurie woke up with vision loss in her left eye. Her daughter drove her to Henry Ford Hospital for a vision exam. Despite her previous health issues, Laurie was shocked at what would come next.
"I go in for an eye exam and next thing I know they are cleaning out my arteries," she said.
Vision loss caused by decreased blood flow to the retina
Venkatkrish Kasetty, M.D., a Henry Ford ophthalmology resident, determined Laurie had paracentral acute middle maculopathy (PAMM) lesions in her retina that are a result of decreased blood flow to the retina. He explains it's similar to the classic stroke of the eye.
"Because of decreased blood flow to the retina, we knew there likely was a disruption of blood flow to the brain. Thus, an immediate trip to the emergency room for further evaluation of her heart and carotid arteries was needed."
Laurie was admitted to the hospital for extensive testing to determine if the stroke in her eye was a sign of a potential blockage in her carotid arteries, the main blood vessels in the neck that send blood to the eyes and brain.
Daniel J. Miller, M.D., a vascular neurologist at Henry Ford who was part of Laurie's treatment team, emphasizes it is critical that both patients and clinicians understand that sudden loss of vision in the eye should be considered a medical emergency.
"An expedited evaluation of a patient with decreased blood flow to the retina may reveal a treatable cause. Even in cases without a clear cause, standard treatments help reduce the risk of future stroke," he says.
After further testing, plaque in her carotid artery was detected and Laurie was admitted to Henry Ford Hospital's stroke unit to prepare for surgery.
Despite the gravity of her situation, she immediately felt at ease with her primary intensive care nurse Athena Kostoulakis. "Within 10 minutes, I felt I had known her my whole life," expressed Laurie. "She was so upbeat and informative and even made me laugh as I was being wheeled into surgery. I can tell she loves her job."
Athena says she felt lucky to have taken care of Laurie who was unsure if she should proceed with a stent or have a carotid endarterectomy. "I was more than happy to explain both and sat in the room during her surgical visit for support, and to make sure she understood everything," she says. "Over the course of the next couple of days, we talked about recovery and moving on with life. She was so appreciative of my care, and I was so appreciative of her kindness."
Mitchell Weaver, M.D. , a vascular surgeon at Henry Ford, performed a carotid endarterectomy to remove a build-up of fatty deposits (plaque), which cause narrowing of the carotid artery. He explains that once a person has had a stroke caused by severe blockage in the carotid artery, the person is at high risk to have a second stroke.
"This risk is greatest in the first few weeks following the original stroke," he says. "Performing carotid endarterectomy has been shown to reduce this risk of second stroke both in the short term as well as in the long term."
Laurie, who will be undergoing laser eye surgery to prevent further complications in her eye, is at home and looking forward to the future.
Her partial vision loss is something she will need to cope with but something that hasn't changed throughout her life is her love and appreciation for treatment at Henry Ford Health.
Thankful for life-saving treatment
"When I heard the doctor say from my hospital room that my prognosis was good, I screamed Hallelujah," she says emphatically. "Henry Ford once again saved my life and I look forward to watching my grandkids grow up and thrive. I can't even complain about the hospital food," she chuckles. "At the hospital, I had a fresh spinach lunch with tomato soup that I want the recipe for, it was that good!"