For children, a temperature of over 101°F or 38°C may be considered a fever.
Fever symptoms can sometimes be treated with over-the-counter medicine such as acetaminophen or ibuprofen. When treating a fever, what you need to do first is make sure you child is comfortable and then figure out if their illness is more than just a fever.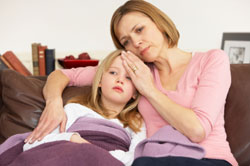 In most cases, acetaminophen can comfort your child, but only rarely does it completely eliminate the fever. Often, the fever returns in four hours after the medicine wears off.
Your Henry Ford nurse or pediatrician can demonstrate how to take a proper temperature. A rectal temperature reading is our recommendation for children under five years of age. For children over five, an oral or under-the-arm reading is usually sufficient.
If you have been managing the fever at home without improvement, and one or more of the following is true, then, it is best that they be evaluated by a Henry Ford pediatrician:
The child is less than 4 months of age
The fever is over 104 degrees and doesn't improve with cool water sponging or acetaminophen
The fever lasts over three days
The fever is accompanied by stiff neck, confusion, irritability or "rag-doll" listlessness
The fever is in conjunction with a specific complaint, such as sore throat, earache, urinary discomfort, belly pain or skin rash
Your child has an underlying chronic medical condition like a heart disorder or sickle cell anemia.