MAKO Robotic-Assisted Knee Replacement
At Henry Ford West Bloomfield Hospital we strive to offer patients the best possible treatment options for each unique condition. One of these treatments may include a robotic-assisted total or partial knee replacement using the MAKO robotic-arm.
MAKO is a robotic-arm assisted technology that will help your surgeon develop a personalized surgical plan based on your unique anatomy.
A partial knee replacement works by selectively targeting the part of your knee that is damaged, your surgeon can replace the diseased part of your knee while helping to spare the healthy bone and ligaments surrounding it.
How it works
Mako SmartRobotics™ is an innovative solution for many suffering from painful arthritis of the knee. Mako uses a 3D CT-based planning software so your surgeon can know more about your anatomy to create a personalized joint replacement surgical plan.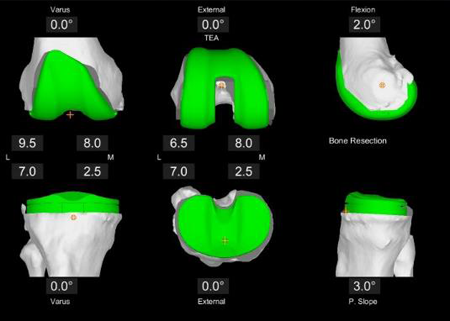 By guiding your doctor during surgery, Mako's AccuStop™ technology allows your surgeon to cut less by cutting precisely what's planned to help protect your healthy bone.
What are the advantages for me?
Precise implant positioning may result in a more natural feeling knee following surgery
More information available to your surgeon can allow for better reproduction of your normal anatomy
Ready to get started? Request an appointment.