Hitting All the Right Notes with Advanced Head and Neck Cancer Treatment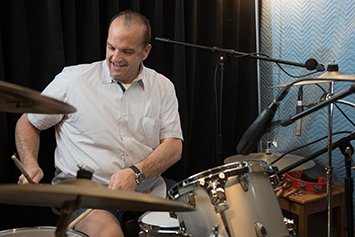 One lump.
Bob Livernois, Ph.D., first felt it on his neck in January 2016, but didn't think much about it.
"When you were sick as a kid, the first thing mom would do is check your neck to see if your glands were swollen," he recalls. "I thought I just had a cold or an infection."
In hindsight, Bob says he was likely in denial about the lump. He went on vacation with his family, as well as sang, played drums and bass guitar with his rock band trio, The Shy. He even took antibiotics; the lump didn't improve.
Finally, with encouragement from his dentist, Bob had a CAT scan to provide a thorough examination of the lump. The scan and subsequent testing revealed the lump was oral squamous cell carcinoma of the right tonsil.
"I'm a classic case of HPV-positive (P16) oral cancer: A 49-year-old man, in good health, never smoked, don't drink, with no symptoms other than a lump," Bob says.
Following his diagnosis, he made an appointment with a team of head and neck cancer experts led by Tamer Ghanem, M.D., Ph.D., director of Head and Neck Oncology & Microvascular Surgery Division at Henry Ford Hospital in Detroit.
"I went from being a guy whose only medical encounter was having a tooth pulled in 1980 to meeting with a group of cancer doctors, surgeons, radiation oncologists, a nutritionist, a psychologist, and a speech therapist all in one day," he says.
Bob would later refer to that multidisciplinary team as his "Circle of Care."
"I relied upon all of those people," recalls Bob. "It was extraordinary how everyone on the team had a hand in my treatment and recovery."
Before he arrived for his first appointment, his case had already been carefully reviewed by Henry Ford's Multidisciplinary Head and Neck Tumor Board. The tumor board is comprised of experts who specialize in head and neck cancer - medical oncologists, radiation oncologists, surgeons, pathologists, and neuroradiologists – who discuss and analyze various treatment options to present to the patient.
"One of the treatment options that was presented to Dr. Livernois was TransOral Robotic Surgery," says Dr. Ghanem, who performed Bob's surgery. "He was a good candidate for this procedure based on his tumor location and its size, his overall health, and other factors that are important to treat the tumor surgically."
TransOral Robotic Surgery, or TORS, is an incisionless robotic surgical procedure that uses the da Vinci® Surgical System. TORS removes head and neck cancer tumors without visible scarring and disfigurement, while preserving speech and the ability to eat and offering a shorter post-operative recovery.
After undergoing surgical resection of the tumor using TORS and neck node dissection, Bob's next step in his treatment plan was radiation therapy.
"Our team recommended a six-week course of radiation therapy based on Dr. Livernois' tumor pathology, based on national and international guidelines," says Bob's radiation oncologist Farzan Siddiqui, M.D., Ph.D., director of the Head & Neck Radiation Therapy Program.
Bob received radiation therapy using intensity modulated radiation therapy, or IMRT, and image-guided radiation therapy, IGRT.
When radiation treatment made eating difficult, Bob turned to a nutritionist in his "Circle of Care" on the head and neck cancer team who helped him find nutrient-rich foods he could comfortably swallow.
It was during this time that Bob began jotting down notes about his cancer journey.
Fueled by his drive as an educator to learn more about his disease, the list continued to grow – from one lump to a list of 65 bullet points.
Recognizing Bob's gregarious personality and straight-forward approach to his cancer diagnosis, Dr. Ghanem encouraged him to take those notes and write a book to inspire and educate others diagnosed with head and neck cancer.
His book, One Lump or Two: The Sweet Taste of Surviving Head and Neck Cancer Surgery and Radiation, chronicles the beginning of his cancer journey and lessons along the way – all leading up to his 50th birthday party, which included celebrating with his Henry Ford "Circle of Care."
"Part of what I loved through this journey was that the Circle of Care after my surgery and radiation was exceptional. I can call Dr. Siddiqui and Dr. Ghanem directly – or anyone on that team – and they will pick up. I'm not getting special treatment; they do this for all of their patients," he says.
When he's not singing the praises of his Henry Ford team, Bob, who taught himself to play drums at age 3, is singing, recording songs and performing shows with his band of nearly 30 years.
He also hasn't missed a beat as the Superintendent of Warren Consolidated Schools, or as a dad to the six children that he and his wife, Jeanne, share.
"What this experience has taught me is you absolutely have to live for today," he says.
Learn more about head and neck cancer treatments at Henry Ford.
For more information about Bob's book, visit livernois.org.