Magnetoencephalography (MEG) Scan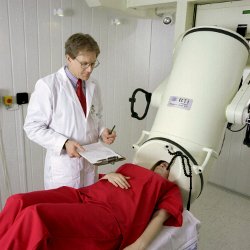 For epilepsy, seizures and other complex brain and nervous system conditions, understanding the brain's electrical patterns is key to successful treatment. At Henry Ford Health, our neurology experts have expertise in advanced magnetoencephalography (MEG). MEG technology helps diagnose and plan treatment for epilepsy, seizures, brain tumor and AVM.
What is magnetoencephalography (MEG)?
A magnetoencephalography, or MEG, scan is a noninvasive test that maps magnetic fields produced by your brain's electrical activity. A MEG scan shows areas of normal and abnormal activity to help with treatment planning, especially surgery.
Using a MEG scan, our doctors can pinpoint the exact locations in the brain where seizures or other conditions occur. We can also identify areas to avoid during surgery, where important functions such as memory, language, muscle movements and the five senses are located.
Our neurosurgeons use MEG to plan more precise surgeries that target the treatment areas while avoiding healthy brain tissue. We also conduct research to find innovative ways to use MEG in diagnosis and treatment for a wide variety of other conditions. Find out more about epilepsy research.
Magnetoencephalography (MEG) scan at Henry Ford: Why choose us?
At Henry Ford, our Comprehensive Epilepsy Center was the first in Michigan and one of a few in the nation that offers MEG scanning. Highlights of our MEG lab include:
First MEG lab in Michigan: Henry Ford was the first in Michigan to add MEG to our toolset for epilepsy and other neurological conditions. Doctors from around the region send their patients to us for the procedure.
Decades of experience: Our specialists have been using MEG since 1989 to plan surgery and other treatments for a growing number of conditions. We pioneered the research that took MEG from a research device to its current use in patient care.
Leaders in the field: We've earned recognition as a level 4 epilepsy center from the National Association of Epilepsy Centers (NAEC). Our team has been active in professional associations such as the American Clinical Magnetoencephalography (MEG) Society (ACMEGS). We're dedicated to advancing the standard of care for people with epilepsy and other neurological disorders.
Groundbreaking research: Our scientists in the MEG lab are studying new and innovative ways to use MEG for conditions including migraine, stroke and tinnitus. We're also using the technology in assessing a wide range of brain functions including attention, language, memory, sensory and social information processing.
Conditions we evaluate using magnetoencephalography (MEG) scan
MEG provides functional brain mapping that we use to help plan surgical procedures for:
MEG research is being conducted to provide helpful information in assessing brain activity in people with:
Magnetoencephalography (MEG) scan: What to expect
A MEG scan is an outpatient procedure and takes about two to four hours. The study is painless, involving a special helmet with magnetic sensors placed around your head.
Before the procedure
Infants and young children may need sedation or anesthesia, depending on whether they need to be asleep or remain still during the study. Adults usually don't need anesthesia, but you may want a mild sedative if you feel anxious.
During the procedure
Placing the equipment: As you rest on a comfortable bed, we position your head inside the helmet. Many people have an electroencephalogram (EEG) at the same time as the MEG exam. If so, we place electrodes (small, sticky electrical pads) on your head before placing the helmet.
Recording the brain's electrical activity: In a separate room, our technicians use a computer with the helmet to record your brain waves. Depending on the type of exam you're having, you may go to sleep. To identify the area of the brain responsible for controlling certain actions, we may ask you to:

Read words and identify pictures
Respond to sensory input such as sounds, touch or images
Push a button
After the procedure
Depending on whether you or your child had received sedation or anesthesia, you may need to recover for a short time after the exam. Otherwise, you can go back to your daily activities immediately afterward.