Partial Hospitalization Program
Intensive mental health treatment for adults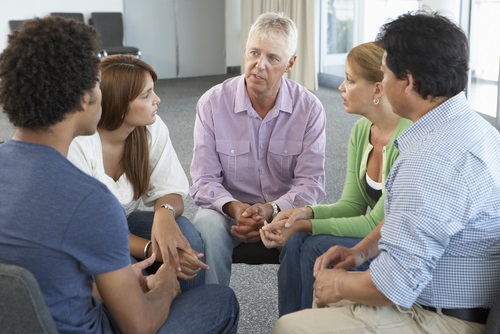 Managing a mental health condition while balancing work, school or family responsibilities can feel overwhelming. It can be hard to find the right treatment option that works for you and your family. We are here to help.
Our Partial Hospitalization Program (PHP) is a good fit for those who don't require a controlled hospital setting but would benefit from a more intensive therapeutic experience where you can focus on your illness. Your doctor or mental health professional can help determine what level of care is best for you and provide a referral.
Our program has been helping adult patients with behavioral health conditions for decades, offered by one of the most experienced teams in Michigan.
Talk to your doctor or therapist to find out if PHP is right for you. For more information about PHP, call
(313) 640-2637
.
What is a Partial Hospitalization Program?
Partial hospitalization is a voluntary, day-treatment program that offers intensive therapeutic care for adults with emotional or mental health concerns that have interfered with their daily functioning. Care is provided in a supportive and confidential group setting and offers patients the comfort of returning home each evening. Sessions are held Monday through Friday during the day. Average treatment lasts about two weeks. Patients are expected to attend every session.
SERVICE UPDATE: Due to the COVID-19 social distancing requirements, we are temporarily offering PHP virtually through live video conferencing. That means you'll speak with your therapist or doctor and participate in group therapy using your smartphone or computer.
Patients with a variety of conditions can benefit from partial hospitalization, including:
Personality disorders
Post-partum depression
After completing a PHP, patients continue treatment individually with a doctor and therapist in an outpatient setting. Learn more about outpatient treatment.
What to Expect in a Partial Hospitalization Program
Our Partial Hospitalization Program is led by a board-certified psychiatrist and a team of licensed mental health professionals. During treatment, we will thoroughly assess your condition and tailor your care based on your individual needs. We'll review your complete history, discuss your personal goals and work with you to help you achieve them.
Our personalized approach to care includes Dialectical Behavioral Therapy (DBT). These skills teach you to understand and better manage your thoughts and emotions before they take over and lead to self-destructive behaviors.
Insurance coverage
We accept most health insurance plans. Depending on your insurance type, you may be responsible for out-of-pocket costs such as a copay or deductible. Our billing experts will tell you what you may expect. Contact your insurance company to find out if your plan will cover this type of care.