Engagement and Retention
Welcome Workshop (Patient Advisor Orientation)
The Welcome Workshop is a one-time 2 hour orientation to the Patient Advisor Program. Each participate is required to attend the Welcome Workshop before they can join the program. The objectives of this workshop is to provide more detailed information on the Patient Advisor Program and what is expected from Patient Advisors, as well as provide a short orientation of Henry Ford Health. This workshop better prepares applicants before they join the Patient Advisor Program.
Annual Patient Advisor Retreat
Each year the Patient Engaged Research Center hosts a Patient Advisor Retreat to celebrate the Patient Advisors and all the work they have done to make positive changes in Research and Healthcare improvements across the Health System. Patient Advisors, researchers, administrators and providers are all invited to attend this daylong event. The Retreat gives PERC the opportunity to share accomplishments throughout all the councils and committees that Patient Advisors serve on as well as provides skill building activities and learning sessions. This event also offers a great networking opportunity among attendees. Take a look at some of the key agenda items of PERC's previous Patient Advisor Retreat's.
---
2021- Over 80 participants attended our fully virtual 5th Annual Patient Advisor Retreat. This is the first Retreat that PERC has offered breakout sessions to event attendees. Attendees were given the choice of 3 sessions for each breakout group. Sessions offered all different speakers and topics. Another agenda first for the Retreat, was the successful Patient Advisor Panel session where active Patient Advisors were asked questions by their peers. See full agenda below.
2020- The Patient Advisor Program had its first ever fully virtual Retreat! Though the COVID-19 pandemic impacted our ability to engage in-person, the PERC team was determined to host a Retreat that was just as productive and fulfilling as previous years. We turned to WebEx to help us provide a large virtual event that was user-friendly and provided an interactive experience for attendees.
2019- Opening Remarks with Department Chair of Public Health Sciences, Dr. Christine Johnson, Patient Advisor Presentation by Beth Rubinstein, Keynote Speaker Best-selling Author Dr. Rana Awdish including a book signing, Patient Advisor Poster Session including Awards and Prizes, Research 101 Skill Building Session, All of Us Research Hub Presentation.
2018- Patient Advisor Bingo, Opening Remarks with Dr. Michelle Schreiber, Keynote Speakers Dr. Daniel Mullins and Patient Advisor Gail Graham from University of Maryland, Caregiver Corner with Shawn Bennis, Emotional Intelligence Skill Building Session.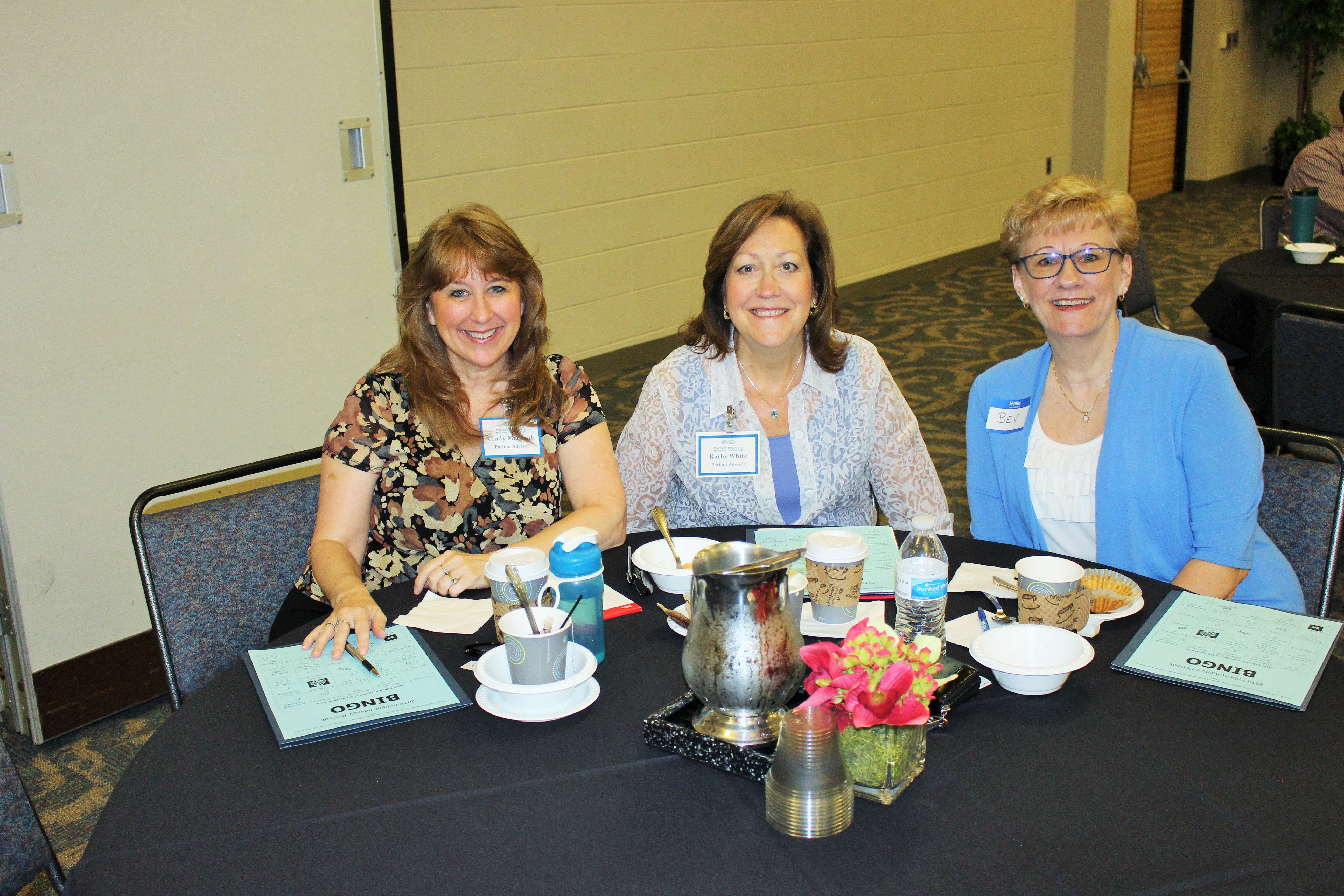 2017- Opening Remarks with Henry Ford Health CEO Wright Lassiter, Highlight of PFAC Accomplishments, Skill Building Session, Patient Advisor Keynote Speakers.
---
Patient Advisor Social Events
Beginning in 2018 PERC began to host quarterly Patient Advisor Social Events. These events give Patient Advisors a chance to have fun and mingle with individuals who participate in other Patient Advisor groups throughout the system. The social events are meant to bring people together and enjoy themselves. The pictures below were taken at our most popular social event "Painting with Patient Advisors", a painting with a twist style event.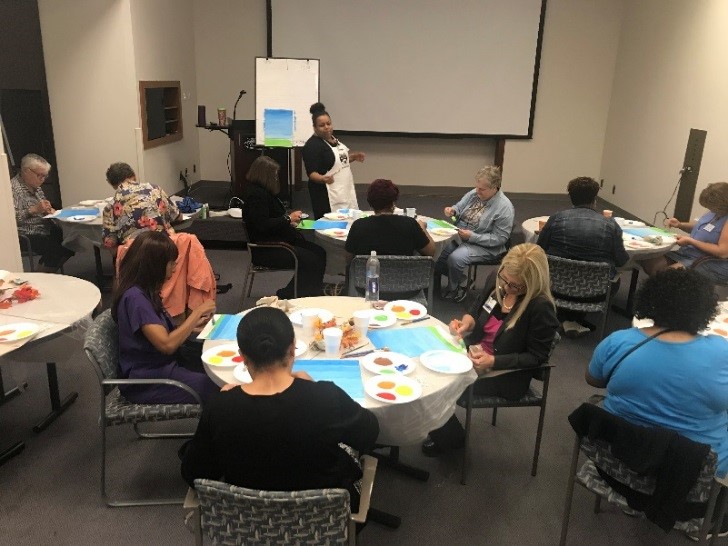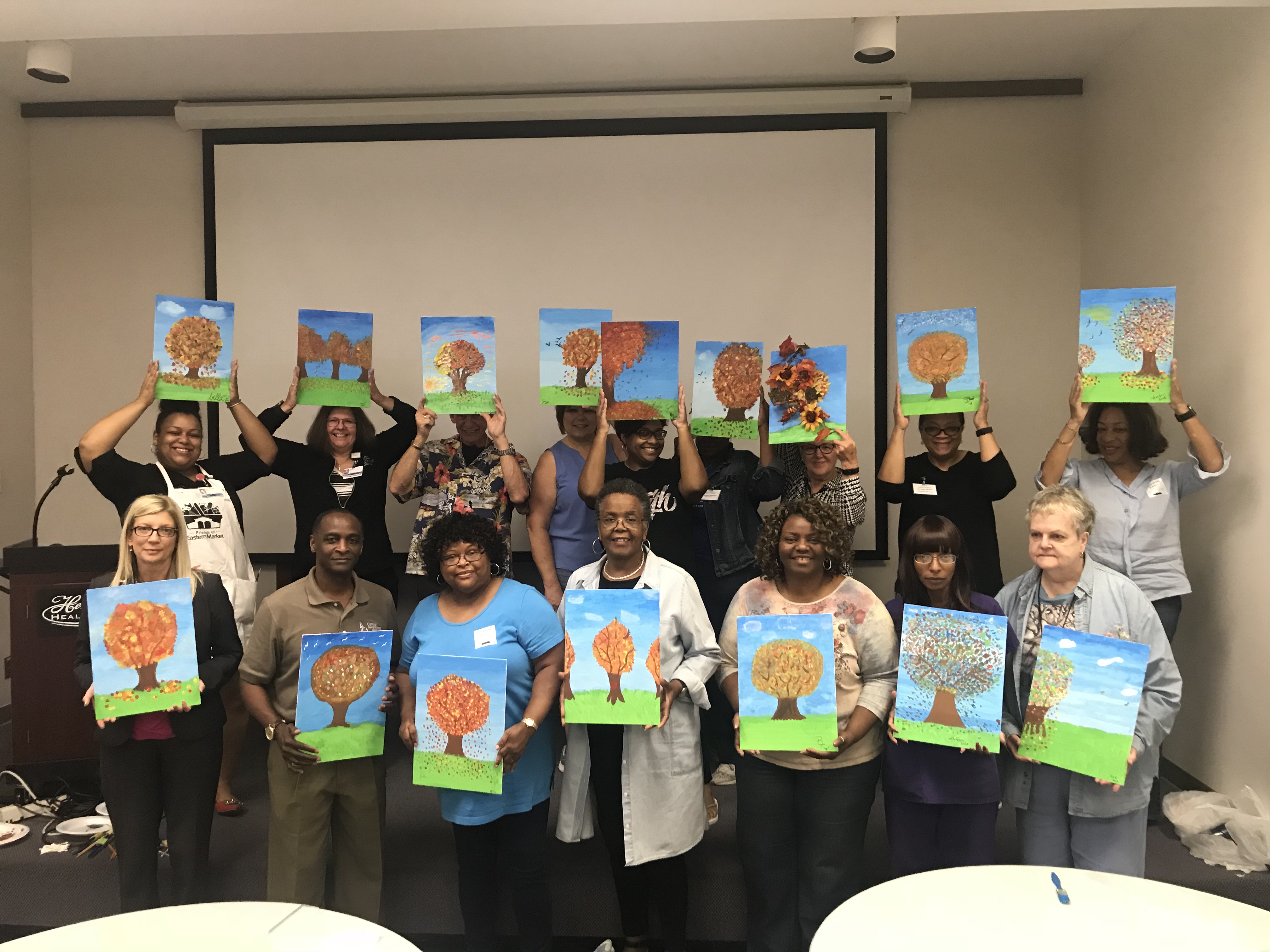 Newsletters
PERC Newsletter
The Patient Engaged Research Center publishes a quarterly Newsletter for researchers, advisors, and community partners. Each issue contains information about projects, investigator spotlights as well as shares news of our research and important advances at the Patient Engaged Research Center. This Newsletter is printed and distributed at Patient Advisor meetings/events as well as to various departments and for marketing to potential new members.
Click here to view all PERC newsletters
Patient Advisor Monthly E-blast
Participants of the Patient Advisor Program are included in monthly electronic updates on the program. The E-blast contains Patient Advisor Program announcements, accomplishments, available placements, upcoming events, and Patient Advisor birthday shout outs. The E-blast is a way to keep the Patient Advisors engaged and informed.