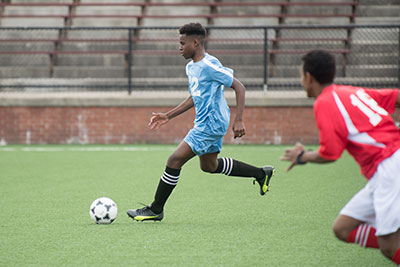 Soccer is fun to watch and one of the easier sports to learn, making it popular with adults and children worldwide. Its fast pace and nonstop action also raise the risk of injury. When you come to Henry Ford Health, you receive specialized care that helps you get back in the game.
Soccer injury causes
Falls are a common cause of soccer injuries. You may fall after tripping over a turf divot or performing intricate footwork. Turf conditions can also cause falls, especially when playing in wet grass.
Kicking, throwing and twisting can stress muscles and joints. Injuries from these movements may bring immediate discomfort or pain that lingers long after the game is over.
Concussions are also common. These head injuries can occur from heading a ball that's wet, overinflated or traveling at high speed. Hitting your head against the goal post, the ground or another player can also lead to a concussion.
Common soccer injuries we treat
We treat common and complex soccer injuries, including:
Abrasions, lacerations and bruising
Muscle strains, including the calf, groin or hamstring
Soccer injury treatment
We use a variety of techniques to help you heal from soccer injuries, including:
Low-impact conditioning: We help you stay active while healing so you can transition safely back to the game when the time is right. You have access to sophisticated equipment that's not widely available, like the AlterG® Anti-Gravity Treadmill™. The treadmill has a built-in pressurized air chamber that reduces the force of gravity on your lower extremities.
Physical therapy: Our physical therapists help you regain strength and flexibility. Treatment includes specialized stretches and exercises tailored to your needs.
Injections: For muscle, ligament and tendon injuries, injections can help. We offer platelet-rich protein therapy, which uses your own blood cells to stimulate healing.
Laser therapy: This painless, noninvasive treatment uses light energy to help you feel better in less time. We direct laser beams to the injured area to reduce inflammation and accelerate your body's ability to repair tissue.
Concussion care: Henry Ford is home to internationally renowned concussion experts. We perform comprehensive exams and deliver therapies that help you feel like yourself again.
Soccer injury prevention
To reduce your risk of soccer injuries:
Practice proper technique for kicking, throwing and dribbling with soccer drills.
Stay active in the off season with a conditioning program that works all major muscle groups.
Warm up and cool down every time you take the field.
Wear shin guards.
Use shoes that fit well and replace them when they wear out.
Soccer injury care: Why choose Henry Ford?
At our program, you'll find:
Prompt access: We offer walk-in orthopedic clinics in locations throughout southeast and south central Michigan. Care is also available within 24 to 48 hours through in-person and virtual appointments. You can also receive care at walk-in orthopedic clinics throughout southeast and south central Michigan.
Trusted experts: We care for up-and-coming and elite athletes throughout the region. Certified athletic trainers provide on-site services in local high schools. Our experts also serve as official team physicians to area colleges and professional sports organizations.
Sports performance: Our Center for Athletic Medicine is one of the most comprehensive performance facilities in the nation. We offer specialized equipment and expertise to help you achieve peak performance.
Request an appointment
Request an appointment or learn more about our sports medicine services. We offer in-person and virtual visits.
Explore our blogs and videos
Learn more about sports injuries and injury prevention: