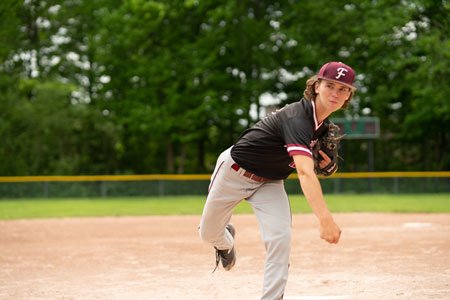 At Henry Ford Health, our sports medicine experts specialize in addressing the unique injury risks and physical demands of baseball players. We provide comprehensive care for players of all skill levels, helping you safely return to the game after a baseball injury.
Baseball injury causes
Repetitive overhead throwing causes most overuse injuries in baseball. These athletes throw forcefully and at high speeds, which puts a great deal of stress on the shoulder and elbow.
Pitchers throw hundreds of times a week. The final two phases of an overhead throwing motion — late cocking and follow-through — put the most stress on the arm. The thrower has to rotate their arm behind their body to generate speed and force. This motion can overextend the shoulder joint and strain the shoulder ligaments.
Explosive sprints between bases and hard stops, such as sliding into home plate, can also lead to injuries in the hips, knees and ankles.
Common baseball injuries we treat
We treat common and complex baseball injuries, including:
Anterior cruciate ligament (ACL) tears
Little League elbow, or medial apophysitis (pain at the growth plates on the inside of the elbow in youth players)
Little League shoulder (pain at the growth plates in the shoulder in youth players)
Rotator cuff tears
Shoulder impingement
Shoulder, bicep and elbow tendinitis
SLAP tears (shoulder labrum tears)
Tommy John injuries, or medial ulnar collateral ligament injuries (on the inside of the elbow)
Baseball injury treatment
We use a variety of nonsurgical and surgical techniques to help you heal from baseball injuries, including:
Platelet-rich plasma (PRP) therapy: For soft-tissue injuries in the elbow and shoulder, we may recommend PRP therapy. Injections of platelets from your blood can help muscle, ligament and tendon tears heal faster.
3D motion analysis: We use specialized motion-capture cameras to assess your pitching and throwing technique. Our experts identify body mechanics that could be causing your injury. We help you make adjustments to enhance your performance and prevent re-injury.
Physical therapy: At Henry Ford, we have physical therapists who specialize in overhead throwing injuries. They have extensive knowledge of throwing mechanics and shoulder anatomy. They work with you on posture adjustments, scapular stabilization and other techniques for preventing re-injury.
Arthroscopic surgery: Many shoulder and elbow injuries can be treated arthroscopically. This minimally invasive procedure uses tiny incisions to repair damaged tissue. This allows you to recover faster, with less pain and a lower risk of complications.
Tommy John surgery: Most players with Tommy John injuries don't need surgery. But if your injury doesn't respond to nonsurgical treatment, our orthopedic surgeons have the training and expertise to perform ulnar collateral ligament reconstruction.
Baseball injury prevention
To reduce your risk of baseball injuries:
Adhere to pitch count and rest day rules for your age group.
Do not pitch on consecutive days.
Warm up and cool down before or after any practice or game.
Do not train with weighted baseballs, which can cause strength imbalances and arm strain.
Play a variety of sports, not just baseball. Single-sport specialization greatly increases the risk of injuries in youth players. Adult players can try cycling, yoga or other cross-training activities.
Wear helmets, mouth guards and face shields during play.
Baseball injury care: Why choose Henry Ford?
At our sports medicine program, you'll find:
Elite-level care: Henry Ford Sports Medicine is a primary care sports medicine provider for the Detroit Tigers and also cares for numerous university and high school baseball teams. Our physicians and certified athletic trainers treat baseball players at schools throughout southeast and south central Michigan. No matter your skill level, you receive the highest level of care.
Minimally invasive treatment options: From Tenex procedures to treat Achilles and Patellar tendons to plasma-rich protein (PRP) injections to treat knee injuries there are options available to reduce procedure time, hasten recovery and increase potential for improved outcomes.
Performance optimization: We help injuries heal, but we also help you improve your overall performance. Experts focus on enhancing your strength and technique so you return to the baseball field in peak condition.
Convenient access: In-person and virtual appointments make it easy to get care at a time and place that works for you. Henry Ford also features walk-in orthopedic clinics with extended evening hours to fit your busy schedule.
Innovative treatments: Our Center for Athletic Medicine features state-of-the-art conditioning and rehabilitation equipment for baseball injury treatment. Sports medicine physicians and orthopedic surgeons also offer therapeutic injections and the latest surgical procedures.
Request an appointment
Request an appointment or learn more about our sports medicine services. We offer in-person and virtual visits.
Explore our blogs and videos
Learn more about sports injuries and injury prevention:
Back to the Love of the Game
After recovering from shoulder injuries, the Dickinson brothers are stronger than ever.