Henry Ford Health is home to highly skilled, certified athletic trainers specializing in sports performance. They take the time to provide individualized testing, training and recovery recommendations for each athlete. Our team of sports trainers continually learns about the latest techniques and technology for athletic enhancement, ensuring you receive the highest quality of care and coaching.
David Tomsich, MS, PT, SCS, DPT
David Tomsich is the Director of Sports Rehab at the Center for Athletic Medicine. He joined the Henry Ford Health team in 1993. David is board-certified in sports physical therapy and is also a senior clinical instructor and part-time faculty member at the Oakland University and Wayne State University physical therapy programs, where he teaches biomechanics and pathokinesiology.
For the past 25 years, David has shared his expertise in biomechanics and advanced therapeutic exercises with physicians, physical therapists and athletic trainers through lectures and continuing education. His other areas of specialization include gait analysis, running assessments and rehabilitation of the injured athlete.
The College of St. Scholastica, Doctor of Physical Therapy
University of Kentucky, MS, Physical Therapy
Oakland University, BS, Physical Therapy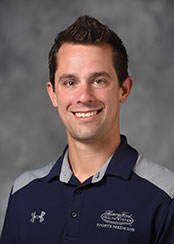 Nick Parkinson, M.Ed., AT, ATC, TSAC-F
Nick joined the Henry Ford Health team in 2013 and is Supervisor of Athletic Training for Sports Medicine. He also oversees the sports performance program and biomechanics labs at the Center for Athletic Medicine.
Nick is a Tactical Strength and Conditioning Facilitator® (TSAC-F®), certified by the National Strength and Conditioning Association (NSCA). He has provided athletic training services to the U.S. Army and the U.S. Marine Corps and has worked with a wide range of high school, collegiate and minor league teams throughout the region. In 2018, he was named High School Athletic Trainer of the Year by the Michigan Athletic Trainers Society.
Auburn University, M.Ed., Exercise Science and Kinesiology
Central Michigan University, BS, Athletic Training and Sports Medicine
Jennifer Burnham, MS, AT, ATC, CSCS
Jennifer is a certified athletic trainer in our sports performance program at the Center for Athletic Medicine and helps coordinate the Henry Ford Health Physician Leagues.
Jennifer is a Certified Strength and Conditioning Specialist (CSCS) and a Selective Functional Movement Assessment (SFMA) clinician. She is also certified in instrument-assisted soft tissue mobilization. Her additional training includes EXOS Performance Specialist Certification.
Jennifer's past experience includes return-to-play and sports performance coaching for the Detroit City Football Club and the Rehabilitation Institute of Michigan. She was also involved in community organizations including Detroit Public Schools and the Boys and Girls Club of Southeastern Michigan.
Oakland University, MS, Exercise Science
Alma College, BS, Athletic Training
Sports Acupuncture
Request an acupuncture appointment.
Tom Betts, DAOM, RAc
Tom Betts is a board-certified and registered acupuncturist at the Henry Ford Center for Integrative Medicine. He earned his Post-Graduate Doctorate in Acupuncture and Oriental Medicine from the Oregon College of Oriental Medicine. Tom completed his combined Master of Science in Oriental Medicine and Bachelor of Science in Nutrition at the Midwest College of Oriental Medicine. He also holds a Bachelor of Science in Exercise Physiology from Illinois State University. Tom is a Certified Sports Acupuncturist and Acupuncture Detox Specialist.
Dr. Betts started his journey in health and wellness as a personal trainer. After experiencing the benefits of Acupuncture and Oriental Medicine first-hand, he decided to become an acupuncturist. In addition to his training as an acupuncturist, Dr. Betts completed a highly regarded Acupuncture Sports Medicine Apprenticeship Program.
He helps his patients achieve their optimal health through education, which includes instruction on self-care techniques and incorporates counseling on diet, exercise, lifestyle, awareness, and relaxation. This approach is very holistic and encourages patients to take an active role in their own healthcare, using Dr. Betts as a guide to maintain their health.