88-Year-Old Hall of Fame Weightlifter Keeps Up His Craft After Multiple Joint Replacements
As a kid growing up in South Africa, Norman Lewis of West Bloomfield, says he was skinny and bullied. His father bought him some weights to get stronger. That was a gift that would forever change his life.
"I entered the university early at age 16 and decided to try lifting weights and it felt pretty good," he says.
In 1967 at the age of 33, Norman became the British Weightlifting Association Home Counties Heavy Weight Champion. It would be one of several weightlifting competitions he won throughout his life. And then in 2022, he was inducted into the USA Masters Weightlifting Hall of Fame.
His extraordinary achievements extend to his professional career. At age 19, Norman received his bachelor's degree in physics and chemistry in South Africa, followed by a Ph.D. in physics in Israel and a master's degree in computer science in England.
Norman worked for Ford Motor Company in Europe and was sent to the United States for work in 1981. He worked for Ford for almost 30 years before retiring from an executive director role in Information Technology. He currently lectures in Information Technology for Wayne State University.
Multiple Surgeries Heal Years Of Injury
Keeping fit has always been a priority for Norman. He had avoided injuries for most of his life, but the years of weightlifting including performing the snatch technique, where the lifter lifts the bar as high as possible and pulls themselves under it in a squat position, led to hip injuries on his right side requiring his first hip replacement about 20 years ago at a local hospital.
When that initial procedure required a revision, Norman underwent hip surgery to correct the failed hip replacement. That surgery was one of four joint replacements Norman would undergo with Robb Weir, M.D., Henry Ford Health orthopaedic surgeon.
Norman also underwent two knee replacement procedures in 2019 and in 2022 he received a left hip replacement.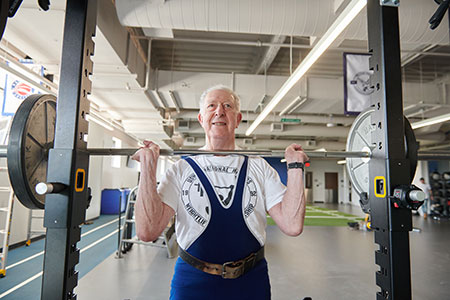 Norman, who describes Dr. Weir as an excellent surgeon, jokes that Dr. Weir may be a closet weightlifter.
"I expected him to say I couldn't weightlift anymore after all of these surgeries, but he has encouraged me to keep it up and asks questions about weightlifting."
Although Norman says that his most recent recovery has been a bit slower due to his age, he has been surprised at how quickly this last surgery took place.
"It was amazing, they gave me a new hip in the morning, and they sent me home in the afternoon. I was walking with a walker immediately."
"It has been such a privilege to take care of Norman," says Dr. Weir.
"One of my greatest professional joys is to help patients return to their favorite activities. Whether it is walking the dog, playing with grandkids, golf or world class weightlifting, getting people back doing what they love is so satisfying."
Norman underwent physical therapy at Henry Ford West Bloomfield and said his physical therapist Anna Kebl told him he was walking like he didn't have the surgery, so her services were no longer needed.
"His story is a true inspiration for all of us," she says.
A Big Goal For The Future
Norman is back home, able to drive to his activities and still lectures at Wayne State while still doing some weights at home until he is fully recovered. Despite a life filled with achievements, he still has his eye on one more accomplishment.
"I hope to break the record as the oldest individual to do the clean and jerk lift at 100 KG (about 220 pounds). I'm currently at 70 KG so I'm a little bit of a ways away, but still hoping," Norman says.