With Minimally Invasive Hip Surgery I Can Now Walk Without Pain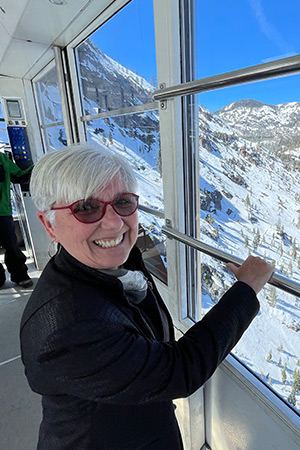 In 2020, Marge Wisniewski of Northville, a retired hospice administrator, fell and tore a ligament in her left ankle. After being treated at Henry Ford Medical Center-Fairlane with a soft cast and extensive therapy her ankle was on the mend.
The good news was her ankle treatment was successful. The bad news was a bone scan showed her osteoporosis had progressed.
Shortly after the fall, she started to have more pain in her right hip due to favoring her left leg. During the COVID-19 shut down, Marge began walking three miles a day to keep active. Unfortunately, the combination of the injury and the walking increased her hip pain.
"I received two cortisone injections into the hip over the course of the next two years, but eventually the pain progressed to the point where I made the decision to move forward with a full right hip replacement," Marge says.
Her physician Robert Albers, D.O., a Henry Ford sports medicine and family medicine physician who provided the cortisone injection therapy referred her to Trevor Banka, M.D, a Henry Ford orthopaedic surgeon who specializes in joint care.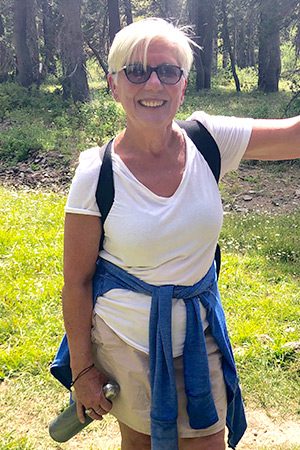 Dr. Banka says Marge was an excellent candidate for total hip replacement.
"She had end stage hip osteoarthritis and her pain continued after exhausting conservative treatments," he says. "She underwent an outpatient total hip replacement and we had her up and walking an hour after the surgery."
To the amazement of her family, Marge was discharged the same day after surgery from Henry Ford West Bloomfield Hospital and is doing extremely well. After completing in home physical therapy, she began outpatient therapy and just two weeks after surgery she is already seeing major improvement.
"I am already experiencing a dramatic improvement in my mobility, as well as a reduction in pain and discomfort," commented Marge. I am doing so well that I am walking without aids and am no longer having muscle spasms or any joint or surgical pain," she adds.
"Marge's experience is what we expect for total hip and knee replacement patients at Henry Ford," comments Dr. Banka. He says the vast majority of patients with this procedure will be walking immediately after their surgery and will be home within a few hours. "Our nurses, anesthesiologist, therapist, and joint coordinators are top notch. Their focus is on the patient's comfort and experience."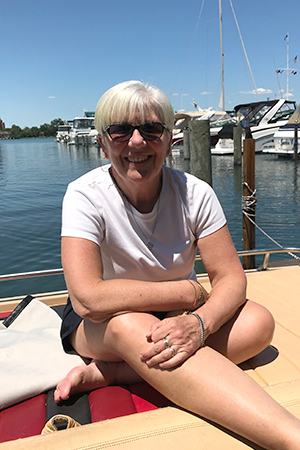 The thought of surgery can naturally make anyone anxious at what the surgical process and recovery process may entail. Marge said the process at Henry Ford was unbelievable.
"From the pre-op preparation classes to the day of surgery, the follow up home care and the valets who were conscientious and downright fun, I have to commend Dr. Banka and everyone on the Henry Ford team for a process that went so smoothly."
To explore treatment options at Henry Ford, visit henryford.com/jointreplacement. Take our free, on-demand joint preservation class to learn more about surgical and non-surgical options for your joint pain.