Reverse Total Shoulder Replacement Gives 81-Year Old New Lease on Life
At 81 years old, Carole Broadwick, who had undergone two hip replacements and a knee replacement over the years, did not want any more surgeries. But after suffering in agony for more than a year — often brought to tears — the pain in her shoulder made the decision for her.
Carole, who lived in Traverse City at the time, was scheduled to have surgery at a hospital there, but due to COVID-19, elective procedures were shut down in hospitals across the state. In the meantime, she and her husband Bill decided to move to Clinton Township to be closer to their five sons. She waited until after they relocated to start the process again.
The Henry Ford advantage
Her new primary care physician referred her to Dr. Vinay Pampati, an orthopedic surgeon at the Henry Ford Center for Joint Replacement. He scheduled her for reverse total shoulder replacement, a single procedure done for patients who have shoulder arthritis with underlying rotator cuff tears.
A reverse total shoulder replacement relieves arthritis by replacing the worn-out joint surfaces with an artificial joint made of metal (cobalt chrome) and plastic (polyethylene).
Carole finally had her surgery at Henry Ford Macomb Hospital in January of 2021. She stayed overnight but was unable to have visitors because of the pandemic.
The surgery was a great success. A visit to her home by a Henry Ford Macomb occupational therapist for a safety assessment and outpatient therapy at Henry Ford Rehabilitation - Clinton Township helped to aid her recovery.
Message from a thankful patient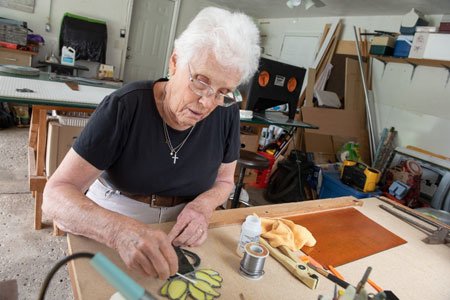 Carole was so grateful for the care she received; she sent a thank you postcard to Dr. Pampati which read:
"I know by sending this note on a postcard that many will have read it before you, but that's okay. I want everyone to know what a great job you did on my reverse total shoulder replacement. After several years of cry-out-loud pain in my shoulder, I am now pain free! You've given me, at 81, a new lease on life. I thank you for using your skills to make my life ahead good. God bless you!"
Carole, who has since celebrated her 82nd birthday, reports a "sensational improvement" since undergoing reverse total shoulder replacement. "I'm so thankful to be able to reach up to put things away, belt my own pants and do other everyday tasks with no pain or complaints," she shared.
One of her many talents is creating beautiful stained-glass windows — a hobby she was forced to give up prior to surgery. Now, she's back out in the workshop in her garage, creating more amazing designs.