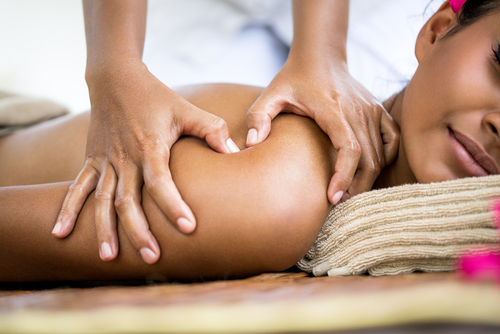 Massage therapy is the manual application of varying techniques and pressures applied to the soft tissues of the body. The goal of massage therapy is to promote relaxation, pain relief, increased circulation and overall wellbeing. Therapists apply these techniques using the hands, forearms and additional massage tools, as needed.
Massage therapy works to treat a range of conditions, including:
Arthritis
Cancer
Depression, stress and anxiety
High blood pressure
Joint and muscle pain
Neuropathy
Plantar fasciitis
Range-of-motion restriction
Sciatica
Sleep issues
Sports injuries
Our team of massage therapists offer customizable treatment for all -- from those looking for relief from a medical condition or ailment to patients post-surgery and those who simply want to ease the tension in their bodies and enhance their own wellness and relaxation. We also work in partnership with physical therapists, physicians and other medical professionals when necessary to supplement your current care.
During your massage therapy visit: What to expect
Depending on the type of massage you receive, your therapy session will vary. All massage treatments are customizable, and upon your first visit, our therapists will meet with you to review your wellness goals, identify any problem areas, answer questions, and develop a massage program that suits your needs and wants. For all massages, you will lie on a massage table in a private room where you will receive your service. You are welcome to undress to your comfort level, and will be covered by a sheet for the duration of your service. Only the area being worked on by the therapist will be exposed.
All massages are either 30, 60 or 90 minutes. Many people looking for a general wellness massage will come in on a regular basis for a 30 minute massage. The therapist will work with you to determine what length of time is appropriate for your session.

You do not need to be a patient to receive massage services, and all age groups are welcome to receive treatment.
Massages are charged by the length of service. Prices include:
30 minutes
$38
60 minutes
$76. (With 60-minute packages, when you buy
five you get the sixth free)
90 minutes
$114
Gratuity is included in the price per session
.
Massage Locations
Henry Ford Center for Integrative Medicine offers services at multiple locations throughout metro Detroit. For more information about our locations, call (833) 246-4347.
Massage therapies we offer
There are more than 350 different styles of massage therapy. Our massage therapists offer the following types of massage:
Deep tissue massage is a specific type of massage therapy that concentrates on the deep layers of muscle and fascia (connective tissue) in the body. Massage therapists use deep finger pressure and slow, firm strokes. Deep tissue massage is used to treat chronic muscle tension.
Oncology massage is the modification of existing massage therapy techniques in order to safely work with cancer patients and accommodate any complications of cancer diagnosis and treatment. This type of massage nurtures, soothes, comforts and subtly heals the body, and is focused on providing maximum comfort.
Prenatal massage is proven to improve pregnancy outcomes and maternal health, and can be incorporated into routine prenatal care as an emotional and physical health supplement. Benefits of prenatal massage include reduced back and joint pain, reduced muscle and tension headaches, lowered risk of edema, and improved circulation and sleep.
Reflexology uses pressure-point massage and is applied to the feet, hands and ears to restore the flow of energy throughout the body. Reflexology is based on the belief that each part of the body is interconnected through the nervous system to the hands and feet. Oil or lotion is not used with reflexology.
Swedish massage is the most common and best known type of massage. It involves long, fluid strokes of muscles and tissues with pressure that varies from light to medium to firm.
Trigger-point massage therapy is specifically designed to alleviate the source of the pain through cycles of isolated pressure and release. Recipients actively participate through deep breathing as well as by identifying the exact location and intensity of the discomfort.
Learn More and Live Better
Read the latest items in our blog.