Henry Ford offers advanced cataract surgery that is safe and effective.
If you have been told you have a cataract, you are not alone. Cataracts are a common part of life, and almost everyone gets them at some point. Fortunately, cataract treatment has a high success rate.
When should I consider cataract surgery?
Cataracts tend to form slowly and, at first, your vision may be only slightly blurred. At this stage, changing your glasses or contact lens prescription may provide a temporary solution. If left untreated, however, your cataract usually will become cloudier over time. Your vision will remain at the level it is or worsen. When your vision begins to impact your ability to drive or perform routine activities, or if you wish to have your current vision improved, cataract surgery should be considered. Surgery has a high success rate and is the only effective cataract treatment.
Take the next step
Let us help you schedule an appointment with a board-certified ophthalmologist.
What are Cataracts?
Cataracts are a natural part of aging, and surgery is the only effective treatment. Henry Ford has been one of the pioneers in laser-assisted cataract surgery, the most advanced procedure available.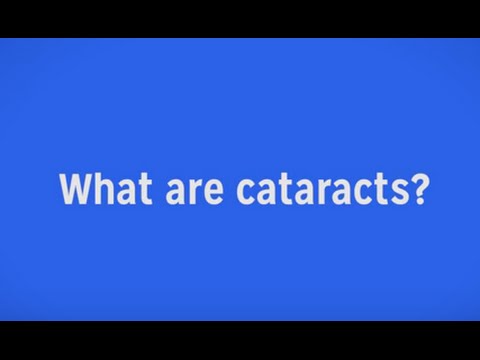 Play
Modern cataract surgery
Today's cataract treatment offers several benefits, including:
No hospitalization: Each outpatient procedure usually takes less than 30 minutes, and you can go home within hours after surgery.
No general anesthesia: Typically at the start, anesthetic eye drops are used to numb the eye. Only a microscopic incision is made, and it usually heals without stitches.
Vision correction: Your old lens is replaced with a new implantable lens, which will have the strength needed to correct your vision.
Types of cataract surgery
Henry Ford offers two types of surgical cataract treatment:
Laser cataract surgery: This laser-assisted cataract procedure uses a femtosecond laser to automate several of the key steps in traditional cataract surgery. It also includes advanced visualization technology for improved precision.
Traditional cataract surgery: During this procedure, your surgeon uses a process known as phacoemulsification, which uses ultrasound to soften and break up the cataract, so that it can be removed.
At Henry Ford, patients come first.
The Henry Ford Department of Ophthalmology is committed to providing our patients with compassionate, personalized care. We feature the most advanced treatments in eye care and are dedicated to vision research -- always staying at the forefront of innovation. A leader in Michigan, as well as one of the largest ophthalmology practices in the United States, we treat more than 55,000 patients per year at 12 locations throughout southeast Michigan. In addition, our team works closely with Henry Ford Medical Group physicians in other departments, providing multidisciplinary, coordinated care for those patients who need it.