Cataracts can cloud your vision, impacting your quality of life
A cataract is a clouding of the normally clear lens in the eye. It most commonly occurs as a result of aging, as proteins in the eye clump, clouding the lens and causing blurred vision, and reducing the light that reaches the retina. These and other cataract symptoms can make it difficult to perform even routine activities.
Dr. Paul Baciu explains the basics of cataracts
Cataract symptoms
A cataract tends to form slowly, and at first you may not notice vision changes until it grows. Cataract symptoms may include:
Clouded, blurry or dim vision
Colors appear faded, dull or yellow
Frequent changes in eyeglass or contact lens prescription
Difficulty seeing at night or in low light
Increased need for brighter light for reading and other activities
Sensitivity to glare from headlights, lamps or the sun
Double vision or multiple images in one eye
Decreased ability to detect contrast
Who develops cataracts?
Typically, age-related cataracts occur after age 60, but some people may begin developing them in their 40s and 50s. In addition to age, other risk factors for cataracts include:
Genetics: A family history of cataracts
Certain diseases: Including diabetes, hypothyroidism and glaucoma
Tobacco use: Including smoking and smokeless tobacco
Prolonged use of steroid medication: Including Prednisone
Prolonged radiation exposure: Including X-rays and ultraviolet sunlight
Trauma: Injury to the eye
Cataracts also may occur in children as congenital or developmental cataracts. While cataracts can occur in one or both eyes, they are not contagious and cannot spread from one eye to the other, or to another person.
How do you treat cataracts?
The Henry Ford cataract program is one of the largest and most experienced in the region, performing more than 6,000 cataract surgeries a year. Our program features the latest cataract treatments, including laser cataract surgery, which uses the most advanced technology available. Modern cataract surgery is an outpatient procedure that usually takes less than 30 minutes and does not require general anesthesia. During cataract surgery, your old lens is replaced with an implantable lens.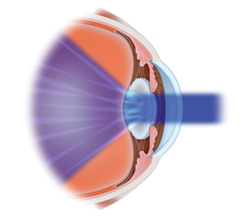 At Henry Ford, patients come first
The Henry Ford Department of Ophthalmology is committed to providing our patients with compassionate, personalized care. We feature the most advanced treatments in eye care and are dedicated to vision research – always staying at the forefront of innovation. A leader in Michigan, as well as one of the largest ophthalmology practices in the United States, we treat more than 55,000 patients per year at 12 locations throughout southeast Michigan. In addition, our team works closely with Henry Ford Medical Group physicians in other departments, providing multidisciplinary, coordinated care for those patients who need it.