Residential Addiction Treatment
Featuring All Private Rooms
Residential (inpatient) treatment involves structured, supportive care for addiction (substance use disorder) while you stay in our comfortable residential facility that features all private rooms and private bathrooms. Our addiction team provides this level of care at Henry Ford Maplegrove Center.
For an addiction assessment appointment, contact us:
Who is a good candidate for residential addiction treatment?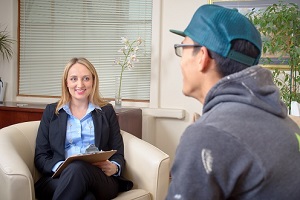 You may need residential care for addiction if lower levels of treatment, such as outpatient addiction treatment or our Intensive Outpatient Program, haven't worked for you.
In addition, we may recommend inpatient addiction treatment if you:
Are unable to stop using addictive substances on your own
Currently use high amounts of addictive substances and may require medical supervision to detox safely
Don't have a support system or home environment that can help your recovery
Have additional medical conditions that need to be monitored, such as high blood pressure
Are currently being treated for additional behavioral health disorders, such as depression
We offer residential care to adult patients only. Teens with substance-use disorders take part in our outpatient treatment programs. Learn more about addiction care for teens.
Henry Ford Maplegrove Center
Comprehensive care for substance-use disorder, close to home.
What is Recreational Therapy?
Developing the body-mind connection with wellness activities like yoga and meditation is an important part of treatment at Henry Ford Maplegrove Center.
What to expect from residential (inpatient) treatment
The process starts with a thorough assessment, which includes both a physical exam and a psychosocial exam. Next, you and your loved ones will work with our addiction team to create a personalized treatment plan. The length of your stay will depend on your particular treatment plan and can vary from a few days to a few weeks. Your addiction treatment team includes physicians, advance practice providers, nurses, counselors, dietitians, activity therapists and mental health assistants.
During your stay, your care may include medically supervised detoxification, medication-assisted treatment or psychiatric evaluation depending on your diagnosis. We offer individual, family, and group therapy as necessary for you and your loved ones. Our doctors are on call 24 hours a day, seven days a week to handle any emergencies that may arise in your care.
After treatment, we encourage you and your loved ones to take advantage of various education and support resources offered by our team and by 12-step programs in the community.
Cost of treatment
Henry Ford Health accepts most major commercial health plans. We will check with your health plan and let you know what treatment is covered, as well as any costs for which you may be responsible, such as coinsurance, copays or deductibles. Because coverage varies, we recommend that you contact your health plan with specific questions about your benefits. Private pay options are also available.
Support During Treatment
Support from other can help your recovery. We offer education programs and support groups for you and your family.
Learn More