Your partners in care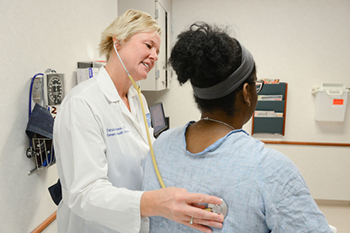 At Henry Ford
Women's Health Services
, our
certified nurse-midwives
(CNMs) provide primary care to women from puberty through menopause and beyond. We are a partner in care throughout southeast Michigan, and provide labor and delivery services.
Throughout your pregnancy, our team of midwives, obstetricians and gynecologists work closely together to offer the best and safest treatment. If a complication arises during pregnancy or birth, a doctor is always on-site.
Certified nurse midwife services
Prenatal care
Postpartum care
Menopausal care
Family planning and birth control
Breastfeeding education and support
Preconception counseling and exams
Teen education about body processes
Treatment of minor gynecological infections
Testing for infections, including those which are sexually transmitted
Annual gynecologic exams (including teens), pap smears and breast exams
Special needs, such as a baby with Down Syndrome, cleft lip and/or palate
Birth control education and prescriptions, including: diaphragms, injections, IUDs, natural family planning and pills
Henry Ford Birthing Centers
We offer home-like birthing centers personalized to you.
Find a Location
Childbirth Classes
Our classes are designed to prepare you for your new family addition.
Find a Class