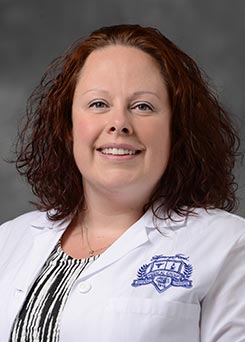 Amy M Williams, PhD
Specialties: Psychologist
Board Certification and Education
Education
Geisinger Health System, Clinical Psychology, PA, 2015
Wayne State University, Clinical Psychology, MI, 2014
Residencies & Internships
Geisinger Health System, Clinical Psychology, PA, 2014
About Me
Titles: Senior Staff Psychologist, Department of Otolaryngology – Head & Neck Surgery
Care Philosophy:
My philosophy is to provide compassionate and empathetic care for patients and their families/caregivers. Across assessment and intervention techniques, I use evidence-based methods to aid those coping with the emotional and social challenges of head and neck cancers. I also work to help patients and their families/caregivers to communicate with their medical providers and ensure that the whole person and caregiving unit is represented throughout cancer treatment.
Biographical Statement:
Dr. Williams works as part of an interdisciplinary team of specialists in head and neck cancer, including surgical, medical, and radiation oncology, speech-language pathology, registered dietitian, nurse navigation, and advanced practice providers. Prior to treatment for head and neck cancers, patients and their families/caregivers will be referred to the pre-treatment clinic for evaluation. The pre-treatment clinic includes assessment and education by the speech-language pathologist, registered dietician, and health psychologist. The pre-treatment clinicians remain part of the medical team throughout and will often continue to work with patients and their families/caregivers well into survivorship.
Research Interests:
Research interests include cognitive impairment, treatment expectations and adherence, quality of life in the head and neck cancer treatment continuum, and the socioeconomic and cultural determinants of cancer treatment and outcomes with a focus on head and neck cancers.
Awards and Honors:
Health Equity Scholar, 2016
Locations
2799 W Grand Blvd
K8
Detroit,
MI
48202
Henry Ford Medical Center - Lakeside
14500 Hall Rd
Sterling Hgts,
MI
48313
Henry Ford Hospital
Henry Ford West Bloomfield Hospital