Generation With Promise in Schools
Generation With Promise (GWP) brings interactive, nutrition education, and cooking demonstrations and to elementary, middle, and high schools throughout Detroit. Their registered dietitians, professional chefs, and health educators offer classes and presentations on nutrition, physical activity promotion, healthy cooking, and wellness including through Share Our Strength's Cooking Matters™ curriculum.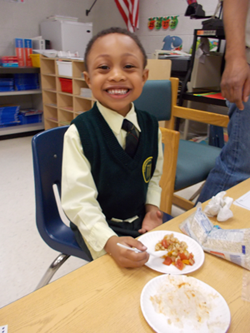 During these presentations GWP staff offer local resources and healthy food tastings. Afterwards, to continue and encourage healthy habits in the classroom GWP staff provides resources, including Linking Lessons, to schools so that nutrition education can be ongoing.
Interactive presentations include:
Student Action Teams for grades 6-12

Grades 6-12
Nutrition education
Leadership training
Peer education
Physical activity promotion
5-2-1-0 healthy message campaign

PE-Nut! (Physical Education and Nutrition Together)

Grades K-5
Healthy Schools, Healthy Classrooms curriculum
Food tastings and demonstrations
FitBits physical activity breaks
Health Through Literacy books to read in the classroom and to send home to families

Teacher trainings, school presentations, and resources

Nutrition education
Staff presentations and cooking demonstrations
Field Days
School-wide events
This institution is an equal opportunity provider.